8 Foolproof Paint Markers and Paint Pens for Rocks
Using paint pens for rocks is a handy way to both create and accent your painted rock designs. Outline your art, add dots, metallic accents or glitter with markers.
It's so easy to use pens for painting rocks that you'll soon be decorating every flat stone you see with them.
I love to experiment with different supplies I have in my craft stash to see how they'll work on rocks. Sometimes I get a painted rock I love, and others may be considered a #craftfail. (Although as long as I learn something I'm happy with the project, even if it looks like a hot mess.)
Over time, I've definitely collected some favorite rock painting supplies based on my trials.
Over the course of painting my piles of stones, I've learned tons about what kind of paint pens to use on rocks, which markers work best for rock surfaces, and which are the best pens for drawing or outlining designs.
I've created a list of the best rock painting pens, along with the pros and cons of each one, so you can choose the pens and markers that best fit your needs.
As an Amazon affiliate, I could earn a small commission from purchases made through qualifying links.
Benefits of Rock Painting Pens
There are several reasons to use pens for painting rocks instead of regular acrylic paints and brushes, especially if you're a beginner or don't already have a supply of acrylics.
They're convenient and easy to transport (no hauling around bottles, brushes, and palettes), letting you take your crafting wherever you go.
Markers are a user-friendly way to paint rocks if not comfortable with brushes
Extra-fine tips are great for tiny details and designs on stones or pebbles.
Pens are easier to use for lettering and writing on rocks, especially for beginners.
Storage takes up minimal space vs. the area needed for many bottles of acrylic paint.
Too busy to read now?
No Problem! Pin this article to your favorite Pinterest craft board so you can easily find it later.
Best Paint Pens for Painting Rocks
Posca Paint Markers are the delight of the rock art community right now, and are definitely worth the hype. These pigment paint markers are non-toxic and permanent on porous surfaces (like rocks).
Not only are they my choice for the best rock painting pens, they're also one of my favorite rock painting supplies overall! They're smooth and opaque, and perfect for lettering and drawing on rocks.
Posca Paint Pens come in a variety of different bullet tip sizes, including extra-fine (.7mm), fine (.9-1.3mm), medium (1.8-2.5mm), and broad (4.5-5.5mm). There are also brush, metal fine, and chisel tip styles available, but are more suitable for other uses.
As rock painting markers, the extra-fine, fine, and medium bullet tips are the most popular for their size and versatility.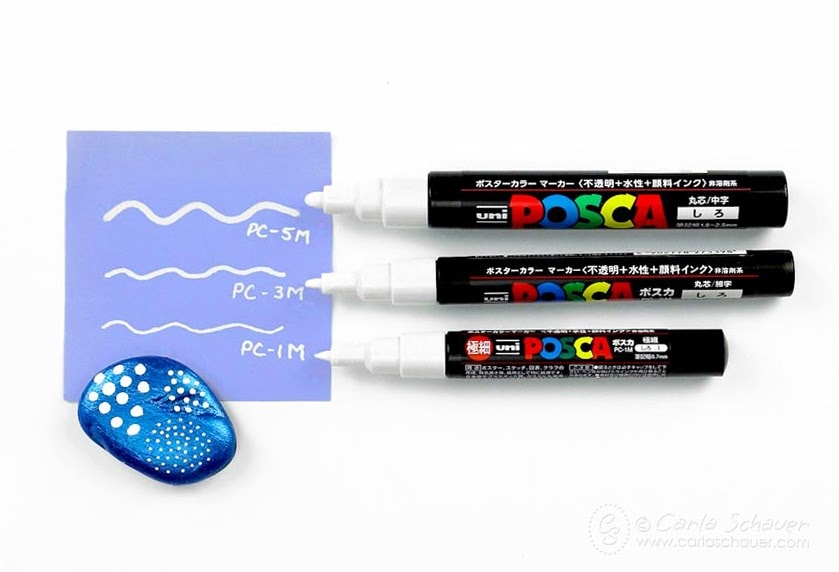 The color range for these paint markers is also pretty extensive. 37 regular colors, as well as 6 fluorescent colors. Plus 8 metallic and 8 glitter colors. You can layer, blend, and mix colors, and the tips are washable and replaceable. There is nothing I don't love about them.

Really, they're that good.
Beginner recommendations: I recommend starting with a fine tip variety pack of colors, and a set of white in multiple tip sizes. This will make a great basic multipurpose marker kit for rock painting.
Sakura Pen-Touch paint markers are a great all-around paint marker for a variety of surfaces, including smooth stones. They're opaque, which creates bold colors even on dark surfaces, and they're waterproof. They come in 3 tip sizes (.7, 1.0, and 2.0mm).

The biggest downside?

The limited range of colors. Pen-touch paint markers are available in red, yellow, green, blue, purple, white, black, gold, silver, and copper.
My favorites are the metallic 1mm bullet point markers, the shimmery finish on the metallic pens looks beautiful on painted stones.
Pitt Artist Pens

Wait, these aren't paint markers. What are you trying to pull here?

Ok, true. But while Pitt Pens aren't technically paint pens, they work similarly and definitely stay on my list of best markers for rock painting.
These high quality artist pens are filled with India Ink, which is permanent and fade proof. In the brush tip, there are more than 60 colors to choose from.
The dark colors cover particularly well, while the lighter colors are more sheer and able to be layered over a white base coat for interesting almost watercolor effects. The tip is solid enough in both the regular and brush-tip versions that it won't buckle or smush against a hard rock surface.

While a bit pricey, Pitt Artist Pens will last a long time and can also be used for a variety of other mixed-media projects. They're great all-around pens to have in your craft stash.
A black and a white pen are great pieces to start, and are an easy choice to use for stones if you already have them in your art stash. Find them at the big craft stores or small independent art stores.
Sharpie Oil-Based paint pens dry a bit glossy, for a finish that is different than the rest of the rock painting markers. They come in 15 colors, dry quickly, and are easy to buy individually if you only want a few colors. The biggest bonus of these pens for painting rocks is that they can be found in most big box stores, which is a convenience over the other options.
Sharpie Oil-Based markers also don't bleed or change colors when sealed like regular sharpies do. (See the note later in the post about drawing on rocks with sharpies.) Because these are oil-based paint markers, clean-up is more difficult than water-based brands.
Rock Painting Pens and Markers Video
If you prefer video, you can watch this rock painting pen review on my YouTube channel! Use the link, or click on the image below to go to the video.
Other Pens for Rock Decorating:
I personally prefer acrylic paint or paint pens for rock painting. But there are a few other good options if you want a different look, or want to use what you might already have on hand. They work well on their own, or over traditional acrylic paints as accents.
Gel Pens. Used for a multitude of applications, gel pens are also great for drawing on rocks. Use them for drawing more intricate designs directly onto rocks or over an acrylic paint base coat. They're available in a multitude of colors, as well as metallics, neons, and other specialty types.
As rock painting pens, you'll probably be more satisfied using a good set of gel pens rather than the huge cheap sets which can often be spotty in quality. Sakura Gelly Roll and Signo Uniball are high-quality brands with excellent coverage.
Gel pen tips can be really tiny, so broader, bold tips will show up better on rocks while still giving a detailed design. You'll need to use spray sealer over gel pens to prevent smearing.
Signo Uniball White. This specific gel pen is kind of the unicorn of white pens. It has thick and opaque white ink that doesn't require going over your lines multiple times.
Whether you want to draw detailed designs directly onto dark stones or to add details over regular acrylic paint designs, the White Signo Uniball is an excellent choice. It's one of the best pens for drawing on rocks in white.
Pigma Micron Pen. As a rock painting pen, the Pigma Micron makes a great outliner. Even the biggest tip is only .5mm wide, and they only get smaller from there. With super-smooth pigment ink, these waterproof, fade-resistant pens give a consistent width for precise lines.
Pigma Micron pens are used by architects, scrapbookers, illustrators, and other artists, and now have found a niche with rock painters as well. You'll most often see the black ink being used for rocks, but there are 15 colors available individually or in sets.
Chalk Pens (or Chalk Markers)– Some people like the specific look of chalk markers, and may already have them at home for other projects. If you like the look, these will also give good coverage.
A Note about Drawing on Rocks with Sharpies:
Can you use Sharpies on rocks?
Well, yes. Technically it works. Regular Sharpie markers will show up if you use them to draw on rocks. But should you use Sharpies to draw on rocks? It depends.
If you're just looking for a quick fun rock craft to do with kids, then Regular Sharpies will work. But if you want to make painted rocks that last without fading and can be placed outside, you'll be way better off using one of the other markers above.
To improve your results when using them, first use a base coat of acrylic paint or sealer. Rocks are porous, and Sharpies will bleed into them, creating a blurry design.
Secondly, final sealing of rocks decorated with Sharpie markers requires an extra step. Using a brush-on or spray sealer directly over Sharpie will smear and blur, ruining your design completely.
For better results, first let the rocks dry for at least 24 hours, then apply 2 or more coats of Mod Podge or white glue, then apply sealer after drying.
Enjoy painting, you can do so much with paint pens and rocks! Do you use a different kind of pen or markers for your rock painting? Let me know with a comment below.
Pin this rock painting pen guide for later:
Your shares are how this site grows, and I am genuinely appreciative when you do. Save to your favorite rock painting Pinterest board or share this guide on Facebook.