Make Melted Crayon Rocks "Wishing Stones"
One of the best ways to keep kids entertained while camping is to have a great stash of camp crafts ready to make. In these Melted Crayon Rocks, colors swirl together to make unique art. No two are ever the same.
Get ready for an awesome craft adventure that's all about melting crayons and playing with cool colors! This craft is perfect for kids who love getting creative and experimenting with wild and vibrant designs.
By harnessing the power of warm rocks, they'll turn plain crayons into multicolored works of art!
How to Make Melted Crayon Rock Art
You will need:
A bunch of crayons (any colors you like)
Smooth rocks
Oven mitts or tongs
Paper towels or plates
Find some smooth stones on your nature scavenger hunt, or bring some with you, along with a few handfuls of crayons. This is a great way to use up all those broken pieces.
This page may contain affiliate links. If you make a purchase through my link, I will earn a small commission at no extra cost to you.
Step 1. Rock Prep.
*safety note: make sure to wash and completely dry rocks before heating. Damp rocks can pop or shatter.
Have an adult place the stones in low fire coals to heat. We like to use kitchen tongs to safely add and remove stones.
Step 2. Crayon Peeling Party:
While the stones are heating, have the kids peel any wrappers off the crayons. Break some of the smaller pieces into pea-sized bits.
Experiment with metallic, shimmery, and other types of crayons. They all melt with different effects.
Step 3. Melting Magic:
Now comes the fun part! Adults should remove stones from the fire and place on a paper towel or plate.
Press crayons against hot stones to melt wax. For another fun option, arrange the small crayon bits on the rocks' surfaces and watch what happens.
As the crayons melt on the hot rocks, get ready to see the colors come alive! Mix 'em up, try different combinations, and let your creativity shine! Make lines, dots, flowers, or whatever your imagination desires.
*Safety note: kids should use paper towel or plate to turn stones, not fingers. Use adult supervision, stones are hot!
Step 4. Cool and Show Off:
Once you're happy with your melted masterpieces, give them some time to fully cool and harden. Once they're cool, kids can proudly display them as awesome decorations or give as gifts!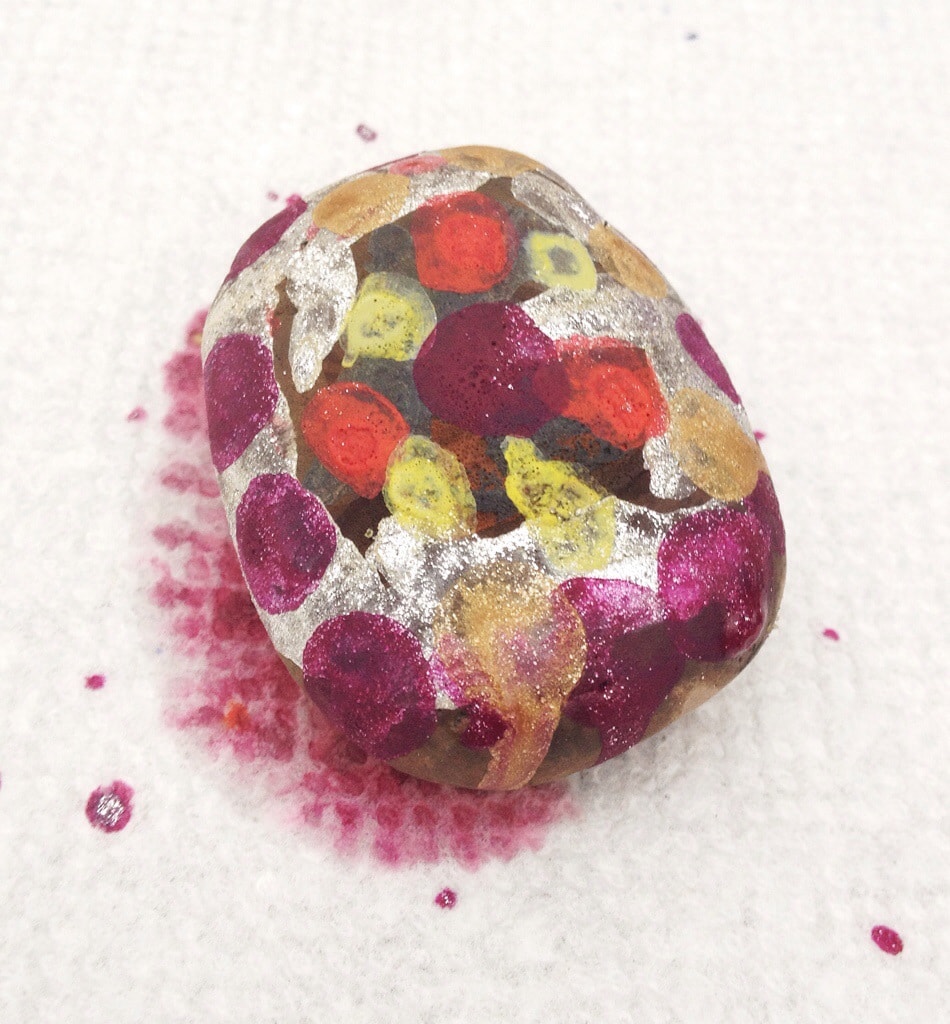 For bonus fun, sprinkle melted crayon rocks with glow-in-the-dark glitter before crayon wax hardens. "Charge" glitter with a flashlight for glowing nighttime entertainment and extra-special wishes.
With this epic craft, they'll unleash their creativity, play with colors, and witness the mind-blowing transformation of crayons into one-of-a-kind works of art. Get ready to melt, mix, and make some seriously awesome masterpieces!
Melted Crayon Camping Craft Instructions
Save these instructions to your favorites or print using the buttons in the instruction card below. You'll have them handy whenever you need them!
Melted Crayon Rock Kid's Craft Tutorial
By using the heat from hot rocks, children can transform ordinary crayons into stunning, multicolored works of art. Make this craft while camping or at home.
Materials
Rocks - washed and completely dried in advance
Crayons or Crayon pieces - regular, metallic or glitter.
Tools
Kitchen Tongs
Paper Plate, paper towel, or foil
Baking Sheet (if indoors)
Old Towel (table protection)
Instructions
Heat Rocks. Have an adult heat washed and dried rocks for 7-10 minutes. (Never heat wet rocks. They could shatter.) If using oven, place rocks on foil-lined baking sheet and heat at 250°. If using campfire, carefully use tongs to place rock in fire coals.
Peel Wrappers. While rocks are heating, kids can peel any wrappers from crayons.
Remove Rocks. Protect table from heat with folded towel. Adults should remove rocks from oven or fire using kitchen tongs. Place on paper plate (or paper towels/foil) on top of towel.
Decorate. Press crayons against rocks to melt wax, covering rocks with stripes, dots, and more!
Cool. Allow rocks and wax to cool completely before touching.
Notes
-Adult supervision required. Rocks will be very hot.
-For more fun rock crafts for kids, visit carlaschauer.com
Recommended Products
As an Amazon Associate and member of other affiliate programs, I earn from qualifying purchases.
More Camping Activities to Enjoy:
Share this Camping Craft with Friends:
Your shares are how this site grows, and I am genuinely appreciative when you do. Pin to your Rock Painting Pinterest board or share this idea to a craft group on Facebook.
Thanks for stopping by!
Carla