Despite my best plans for the holidays, I'm always running short on time. Quick crafts are perfect for this time of year, when spirit is plentiful but spare time is not. Today I'm sharing an easy Christmas ornament made from cinnamon sticks and sheet music that you can make in just a few minutes.
This page may contain affiliate links. If you make a purchase through my link, I will earn a small commission at no extra cost to you.
In addition to the basic scissors or trimmer for cutting, glue, and a small paintbrush, you'll need:
holiday ribbon
thin twine
acrylic paint to match ribbon
glitter paint
sheet music
4×4″ wood or chipboard for base
Paint edges and back of wood base using acrylic paint. Cut sheet music to 4×4″ and glue to front of base, trimming excess with scissors. Use the chalk ink to age the edges of the music paper.
Tip: I found this fun old Ukelele version of Jingle Bells along with a bunch of other old sheet music at a flea market. If you don't happen to have old music paper, you can use brown kraft paper or any patterned paper you have handy.
As far as I'm concerned, there is no such thing as too much holiday sparkle. I brushed a layer of glitter paint over the music to add sparkle and act as a sealer for the paper.
Next, glue your ribbon vertically in the center of your ornament base, leaving at least 1″ unglued on the top and bottom. Glue cinnamon sticks horizontally over the ribbon.
Wrap bottom length of ribbon up around cinnamon sticks and tie in a bow at the top to make a "gift". Use a few dots of glue to secure the ribbon.
Punch two holes as shown at the top of the ornament and tie twine through holes for hanging.
A little rustic and a little sparkly, in less than 15 minutes. Can't beat that with a (cinnamon) stick!
For a list of all the Craft Lightning holiday projects, click the button below.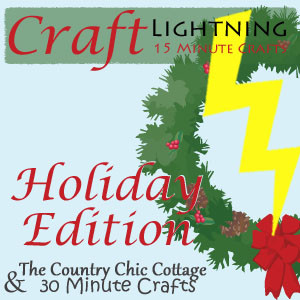 Thanks for stopping by!
Carla