Marshmallow and cake pops are lots of fun to eat and look great, but displaying them on the buffet table can be a challenge. As part of a "Popcorn Box Challenge", I created a little Halloween box perfect for serving decorated marshmallow (or cake) pops, and added a free printable as well.
I started by painting the popcorn box orange, using a mixture of Bright Orange and Burnt Orange acrylic paint (Americana, by DecoArt). It took 2-3 coats to cover the box completely. After it dried completely, I used a fan brush and the Bright Orange paint to dry brush some lighter orange texture onto the box.
While the paint was drying, I folded my medallion from striped paper. I used 2 strips of paper cut to 1.75 x 12″ each, and followed the basic procedure outlined in the July 4th Party Medallions tutorial. My pleats for this Halloween medallion were around 3/8″.
Once my medallion was assembled, I printed the 3″ Halloween Printable Circles onto white cardstock (mine are printed at 85% to make a 2.5″ circle), cut out the "Happy Halloween" circle, and glued it to the center of the medallion.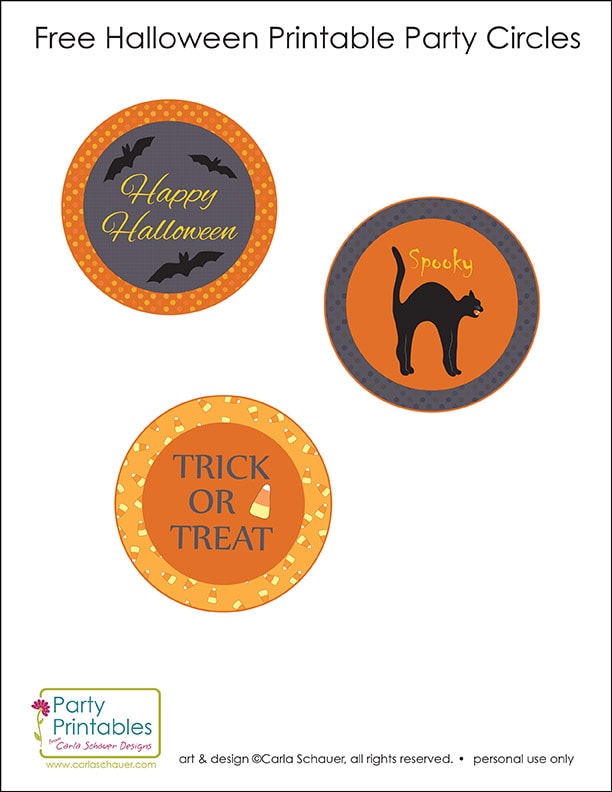 You can download the Free Printable Halloween Party Circles using the button below.


Thanks for stopping by!
Carla