I created this art inspiration card to remind myself that it's ok to experiment and play when I'm making my designs. I have it tacked up on the cork board on the wall in front of my desk.
Why would I need such a thing, when making stuff is so much fun? Well, I have a confession. When I'm creating a pattern or a craft project, I struggle with finding the "perfect" place for images and embellishments. My annoying left brain likes to lean over my shoulder and say things like "boy, that doesn't look straight" and "how about a quarter-inch to the left with that piece right there". When I'm caught in that perfectionism loop, I love having these inspiration pieces handy to help me relax and enjoy the process of creating.
The patterned paper is from Cosmo Cricket, as are the cute little sticker phrases that inspired the project. I layered the papers along with some coordinating textured cardstock, and hand-cut the little banner pieces.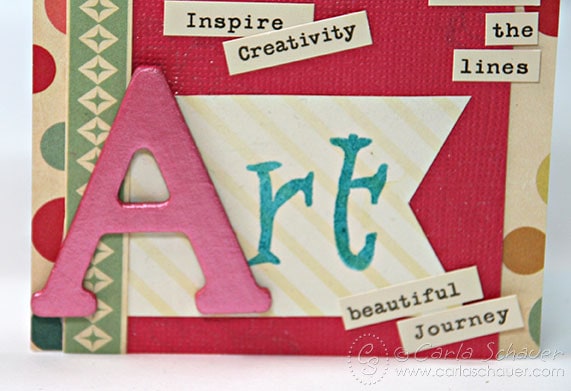 I colored the chipboard letter A with Clearsnap Smooch and stamped the other letters in aqua, then added the phrases. I trimmed and pieced some of the phrases together to make the words fit.

The fabric-covered brad in the top corner represents some advice from a friend a few years ago to "just push the button" or in essence, to stop fussing and trust my instincts. It also serves as the thumbtack to attach the inspiration card to the cork board.
What do you use to inspire you to create your art?
Thanks for stopping by!
Until next time…
C.