With a simple knotting technique and a couple basic tools, you can easily create a DIY paracord water bottle holder that is both functional and eye-catching. In this post, I'll guide you through the steps to make your own custom cobra-knotted bottle clip using sports-themed (or solid color!) paracord.
As a Mom of kids that play sports, I've spent 11 summers at the ballpark lined up on the sidelines with all the other team moms. These paracord water bottle holders make great handmade gifts for parents on the go.
For those of us in the sports parent trenches, extra gadgets to keep us comfy on those long tournament days are always appreciated, plus they clip easily to the gear wagon, stroller, or backpack. Use the same knotting technique to make paracord softball keychains.
This page may contain affiliate links. If you make a purchase through my link, I will earn a small commission at no extra cost to you.
Paracord Bottle Holder Supplies:
You'll need:
4 feet of 550 Paracord, which can be found in craft stores or online. I used fastpitch softball paracord, which is a bright optic yellow with a red stitched pattern. You can use red and white for baseball, white and black for soccer, or choose team colors to personalize the bottle holder.
Scissors
carabiner clip
flame (to seal cord ends)
See all 17 Softball Gifts for Players and Teams
How To Make Paracord Water Bottle Holders:
The water bottle holders use the same cobra knotting technique as these Paracord Zipper Pulls (refer to this tutorial below to start your bottle holder,) with the following additions at the beginning and the end of the piece:
First, start with a 4 ft. length of paracord and fold in half bringing ends together.
Then hold 10″ from closed end to mark loop.
Tie beginning knot. Hold cord with closed loop toward you, and create the starting knot as shown in zipper pull tutorial below. Pull the knot together. Then loosen the top loops slightly and thread carabiner clip through. Re-tighten the knot securely.
Tie Cobra Knots. Continue knotting the loose ends toward you using the cobra knot (described in the tutorial below) until you run out of paracord. If you started with longer cord, leave a 6″ loop for the water bottle attachment.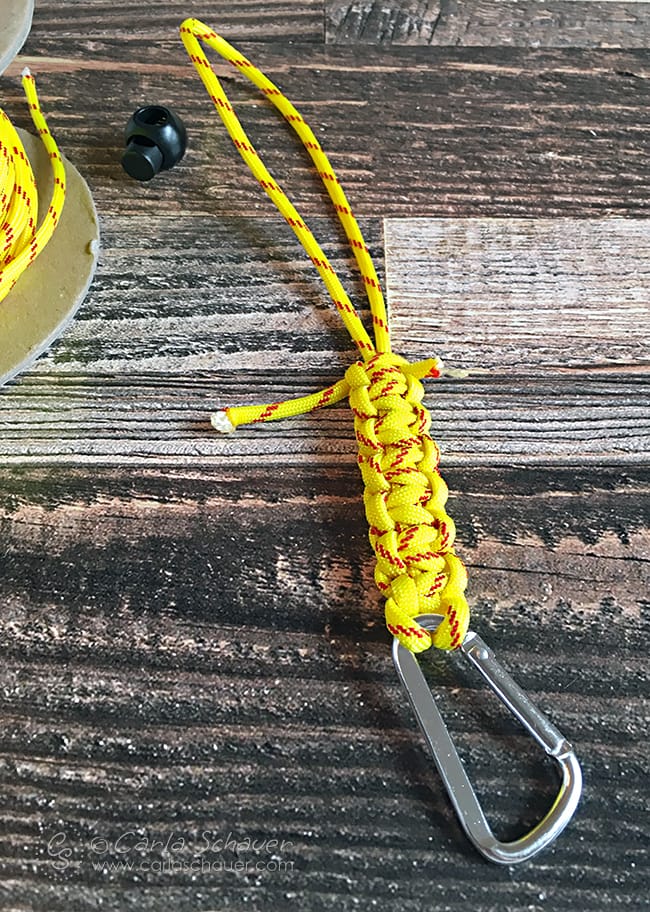 Trim loose end of 1 paracord strand very close to the knots, and heat end in flame until it just begins to melt. While the end is still hot, press it against lighter handle to melt flat into knots. Repeat for other loose strand.

Safety Note: Do not use fingers to press melted Paracord ends. Melted plastic is hot, and will burn fingers. Seriously, use the lighter base. Fingers are important, and so are fingerprints.
Thread paracord loop end through the adjustable cord stopper, and move to knotted side of loop. Keep the cord stopper on the inside of the loop to prevent it from falling off. Slide the stopper to adjust loop size so it fits securely around the neck of the water bottle.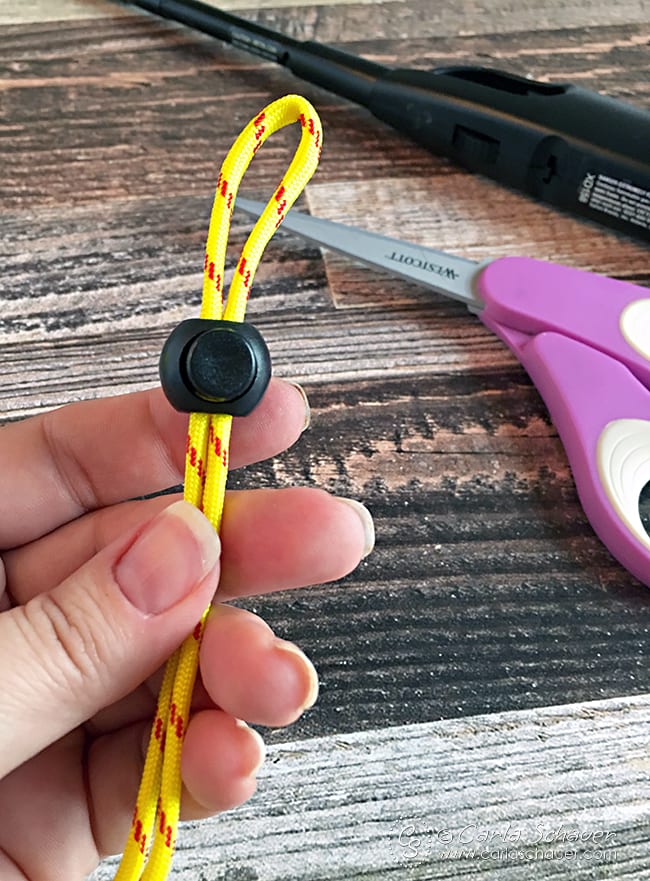 How to Start the Cobra Knot
Use the cobra knot keychain tutorial below as a guide for starting and knotting your paracord water bottle holder.
How to Make Paracord Zipper Pulls
Additional Time:
2 minutes
Make paracord zipper pulls to make zippers easier to use, stop noise, or as a zipper pull replacement for a broken piece. This easy tutorial uses a cobra knot technique.
Tools
Scissors
Grill lighter or other flame (adult helpers only)
Instructions
Beginning fold. Take one 2 ft paracord piece and fold in half, lining up ends. Hold paracord between thumb and fingers, approximately 3 inches from closed end, making a loop with loose ends of cord away from body.

Make starting knot.
a) Take right side loose end and loop around to right, crossing cord over top of loop and holding under thumb.
b) Loop left end to left, crossing cord behind loop and holding with fingers.Hint: kids may find "bunny ears" a good visualization for these steps.
c) Thread top loose end (left side) through left loop toward back. Thread bottom loose end (right side) up through right loop to top. Gently pull loose ends to tighten knot, using fingers and thumb to hold knot in place while tightening.

Use cobra knots to create end of zipper pull. Tilt the keychain to look at the top of the knot in step 2. For each of the knots in this step, begin the knot using the loose strand that points backwards (away from body).
a) Loop rear-facing loose end around and over the top of the zipper pull, holding in place with thumb.
b) Wrap remaining loose end forward around first and back to rear, then bring end forward through loop made in (a). Pull ends to tighten securely.
c) Repeat cobra knot (always beginning with rear-pointing strand) until 2 knots are formed on each side of zipper pull.

Finish zipper pull.
a) (optional) Continue knotting if more length is desired.
b) Cut one excess paracord strand close to the knots, leaving approximately 1/16 inch of strand.
c) Have an adult use a flame to melt the end of the paracord and use the side of the lighter to press the end into the knot, which will prevent fraying and unraveling. Repeat with remaining paracord end.

Safety Note: Do not use fingers to press melted Paracord ends. Melted plastic is hot, and will burn fingers. Seriously, use the lighter base. Fingers are important, and so are fingerprints.

Attach. When paracord is cooled, add your paracord zipper pull to regular zipper or use to replace original zipper pull.

Recommended Products
As an Amazon Associate and member of other affiliate programs, I earn from qualifying purchases.
This paracord water bottle clip works well for attaching reusable water bottles or for plastic disposable bottles. Plus it leaves your hands free for other things, (like coolers, camp chairs, and shade tents!)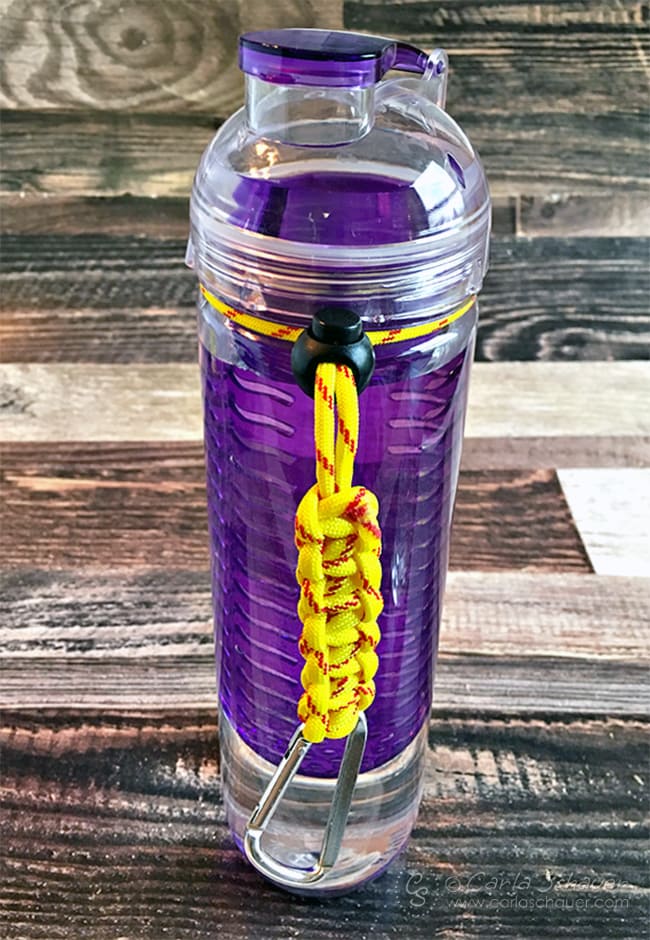 Pin this Paracord Project to Make Later:
Your shares are how this site grows, and I am genuinely appreciative when you do. Pin to your favorite softball Pinterest board or share this idea on Facebook.