For fastpitch players, softball hair bows are practically part of the uniform. From the littlest coach-pitch players to the college athletes, fans will find ribbons on ponytails. I made these "softball streamer" or "pony-o" style softball bows for my daughter's team, making sure they were made as tough as the girls are. Customize ribbon colors for teams, school spirit days, or occasions. Be sure to check out all the softball gifts for players and teams for more fun ideas.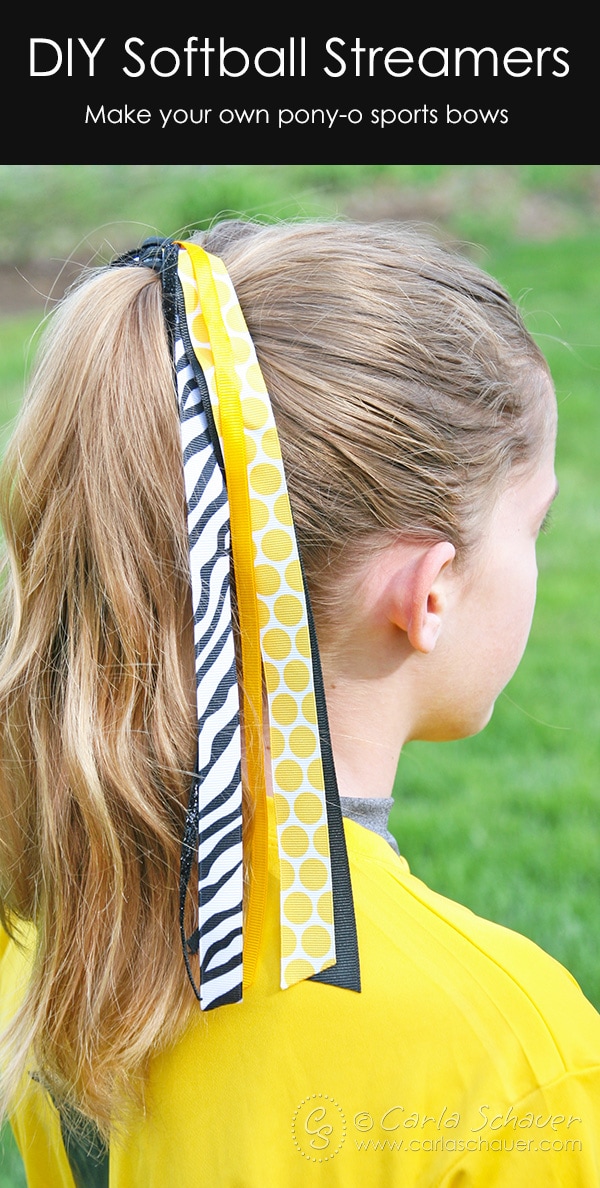 This page may contain affiliate links. If you make a purchase through my link, I will earn a small commission at no extra cost to you.
To Make Softball Hair Bows
Softball Bow Supplies:
Softball Bow Instructions:
Step 1. Cut ribbon in 24″ lengths. I find that older girls (10+) like the longer length rather than the shorter, poofy, style. If you're looking for short and poofy, cut ribbons to 15-20″.
*tip* If you're making bows for a whole team, cut all the ribbon at once and make them assembly-line-style (all of step 1, then all of step 2, etc.) rather than making one full bow at a time. It cuts down on having to switch out supplies over and over.
Step 2. Arrange ribbons and sew together. Next, line up ribbons in desired order, with narrower ribbons toward the top. Thread needle, knot end, and sew ribbons, weaving in and out of each ribbon as shown. Once all the ribbons are sewn, gently tighten thread to gather ribbons together. This method will produce more volume than simply stacking the ribbons flat and stitching through them.
Step 3. Attach ribbons to ponytail holder. These are sport bows, they need to be as strong as our players are. Stitch through ponytail holder and ribbons, wrap thread around both pieces 4-5 times, and stitch through holder and ribbons again. Knot thread, and trim excess.
Step 4. Cover thread with ribbon. Use 2″ length of ribbon (1/2″ to 5/8″ wide). Tie a half-knot in the center for a bit of extra detail, then glue knot directly in center of stitching. Hold in place for a minute or so until glue dries.
*note* Do not use anything containing hard plastic or metal as a decorative accent in this area if you are planning to use these bows for sports. Those materials are illegal for safety reasons, and won't be permitted on the field. The ribbon knot is perfectly legal.
Wrap loose ends of ribbon piece around ponytail band, trimming excess if needed, and glue in place.
Step 5. Trim and seal ribbon edges. Then use scissors to trim edges of ribbon so the ends of each ribbon type are even, cutting at an angle. Ribbons can be cut all the same length, or varied lengths and angles, depending on preference. Then to seal ribbon edges and prevent fraying, pass end of ribbon lightly over tip of lighter flame or heat tool until the cut edge just becomes glossy. (Alternately, dab white glue or decoupage medium on edges if flame or heat tool is unavailable.)
Once the ends are trimmed and sealed, you're finished. And if you made softball hair bows for everyone, you'll have a team full of happy girls at the next practice. Yay you!
Thanks for stopping by, have a great season!
Carla
Coordinating Softball Gifts:
Make more DIY Softball Gifts for team goodie bags, softball coach gifts, or your favorite player.
Pin this Softball Bow tutorial to make later: