The only thing better than one easy painted rock idea is lots of easy rock painting ideas! I've collected a variety of simple designs to give you a place to jumpstart your own creativity. From dot painting to decoupage, you'll find an idea you can't wait to try.
Sure, you can paint complicated, time intensive designs on smooth stones, but sometimes you're just looking for some quick, down-and-dirty crafting time. Having some easy stone painting ideas handy when you're just starting out and getting used to rock art is also a great idea. I made these fun little painted rocks using my favorite rock painting supplies at a girls' crafternoon while I was chatting away.
This page may contain affiliate links. If you make a purchase through my link, I will earn a small commission at no extra cost to you.
Easy Designs for Rock Painting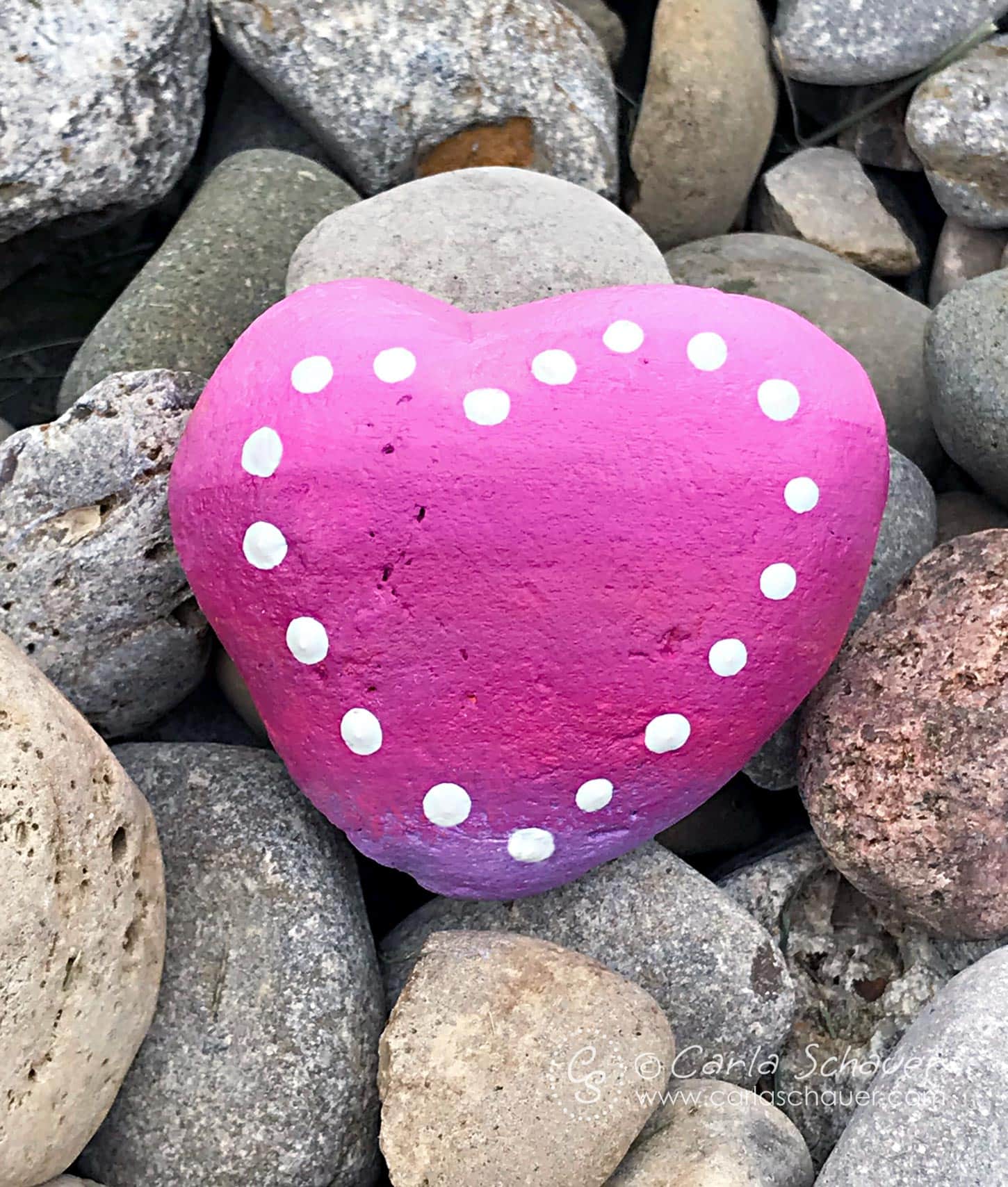 Paint a blended ombre gradient on a heart-shaped rock to make a sweet surprise for someone to find. I used shiny 3D paint to add a dotted heart to emphasize the shape.
Draw a variety of arrows using paint pens to add some fun to a travel-themed design. Fine tipped markers are perfect for details and for writing words on rocks. I used these paint pens (my favorite for painting rocks).
Layers of paint sponged onto a dark navy background created this fun galaxy painted rock. I spritzed on white paint flecks for the tiny stars, then added my constellation using silver paint. See the full Galaxy Painted Rock tutorial.
Did I make up my very own crown constellation? Why yes I did!

I used a stencil to create this trio of mushrooms on a natural speckled rock. Stenciling on rocks can be difficult because of the irregular surface, so I just barely stippled paint to get the general shape of the design. Once I removed the stencil, I went back with paint markers and brushes to paint details and fine lines.
Busy? No Problem!
Obviously you can't make all these cute painted rocks at once. Make sure you pin these ideas to your favorite crafty Pinterest board so you can reference them later when you're ready for another idea
Simple Rock Painting Designs
These simple painted rocks can be made quickly, with minimal supplies. Skip the fuss and get painting right away using one of these easy dotting, painting, or decoupaging ideas to decorate your smooth river stones.
Pin these easy painting ideas for rocks to make later:
Your shares are how this site grows, and I am genuinely appreciative when you do. Save to your favorite rock painting Pinterest board or share this idea on Facebook.