Are sparklers a must for your July 4th cookout? Rather than just tossing the sparkler boxes in a pile on a side table, make them a part of your decor with these free patriotic sparkler holder printables.
Combine with Stars & Stripes Printable Kit and Patriotic Medallions to coordinate your party decorations.
This page may contain affiliate links. If you make a purchase through my link, I will earn a small commission at no extra cost to you.
How to Use Sparkler Holder Printables
Download, print, and cut out sparkler holders. Use a nice heavy card stock for best results.
Use a craft knife or scissors to cut a slit at the top and bottom of the center design (do not cut all the way to edges.)
Weave several sparklers through the slits to hold them in place.
These printables will also fit nicely on the front of the sparkler box. Skip cutting the slits and simply glue or tape to the front of the box, then cut off the excess length.
Display in a basket or metal bucket for a festive look.
Have little ones attending your cookout? Don't trust your party guests with open flame? Need to keep track of children and crazy Aunt Mary in the dark?
Hand out glow sticks instead of (or in addition to) sparklers for night time fun.
As always, follow the manufacturer's instructions when using sparklers and other fireworks. Don't become a Darwin Award winner. Safety first.
Download Free Patriotic Sparkler Holder Printables
Download printables using the button below, and print as many as you need. Personal use only.


Stars & Stripes Deluxe Printable Party Kit
The Deluxe Stars & Stripes printable party kit comes with both 4th of July and non-holiday specific USA printables. The set includes 14 print-at-home files, some of which can be customized by you.
See al Stars & Stripes printable party photos.
Purchase Stars & Stripes party on Etsy.
Free Patriotic Medallion Tutorial and Printables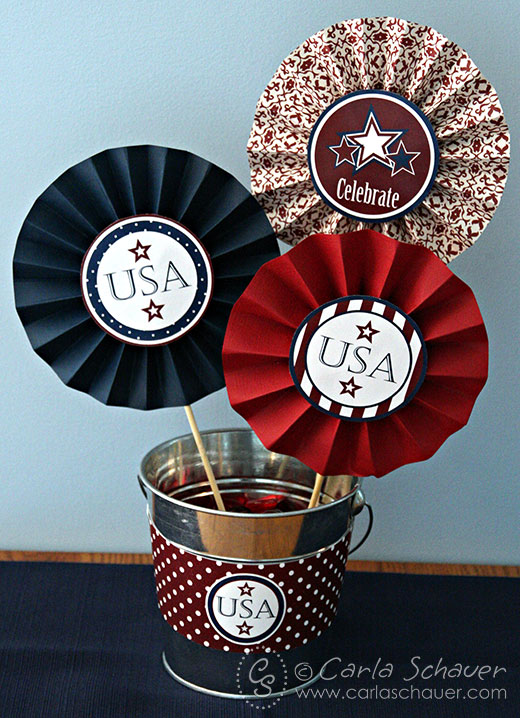 Includes Free printable 3″ party circles.
View the Patriotic Medallion Project tutorial.
Patriotic medallion project coordinates with Stars & Stripes sparkler holders and Deluxe Printable Party Kit.
Thanks for stopping by!
Until next time…
Carla