Cute Free Printable Bookmarks to Color and Craft
Coloring bookmarks combine the calming, meditation-like process of coloring with a cute quick craft. These Free Printable Bookmarks to Color are just the right mix of both.
I've created free printable bookmarks for holidays, seasons, or any day you'd like a fresh new bookmark to mark your place. See them all later in this post.
Bookmark Coloring Pages have become increasingly popular among book lovers, teachers, and anyone seeking a creative twist to enhance their reading experience.
These unique bookmarks offer more than just a placeholder for your favorite book. They provide a canvas for self-expression and relaxation. Handcrafted bookmarks are a great rainy day activity and make great gifts for special occasions.
This page may contain affiliate links. If you make a purchase through my link, I will earn a small commission at no extra cost to you.
Ways to Use Printable Coloring Bookmarks
Of course you can use them as, well…bookmarks. But these printable coloring bookmarks make great crafts for a variety of different occasions. Use them:
as a handout or craft for school parties,
for scout meeting activities,
as a craft at senior centers,
at libraries for kids time,
for a small calming or meditation activity, or
paired with a book as a gift.
NEW! – 1 Year of Coloring Bookmarks
A full year of themed bookmarks is now available in my store. Coloring bookmarks are an ideal quick craft for kids, teens, and adults.
This set makes it easy to print copies for your classroom, book club, scout meeting, or library craft afternoon. Buy the Yearly Bookmark Set here.
Bookmark Coloring Techniques
Explore these techniques, mix and match them, and find your own unique style that suits your coloring bookmarks and personal preferences.
The joy of coloring lies in the process itself, so slow down and enjoy the journey of bringing your bookmarks to life. Try these popular coloring techniques:
Colored Pencils: Colored pencils are a versatile and widely used medium for coloring. They allow for precise control and layering of colors.
Explore techniques like layering, blending, and shading to add depth and dimension to your coloring bookmarks. Experiment with different pressure levels and pencil strokes to achieve your desired effects.
Markers: Markers offer vibrant and bold colors that can make your coloring bookmarks pop. Use alcohol-based markers or water-based markers, depending on your preference.
Take advantage of the marker's broad tips for coloring large areas quickly. Be mindful of potential bleed-through and use marker-friendly paper or protect the back of your bookmark with a sheet of paper.
Watercolors: Watercolors bring a soft and ethereal quality to coloring bookmarks. Experiment with wet-on-wet or wet-on-dry techniques to achieve various effects.
Create beautiful washes, gradients, and delicate details with a watercolor brush. Be sure to use watercolor paper or a thick, heavyweight paper that can handle the water and prevent warping.
Gel Pens: Gel pens are perfect for adding intricate details and vibrant accents to your coloring bookmarks. They come in a wide range of colors and often feature metallic, glitter, or neon effects.
Use gel pens to outline, highlight, or add small embellishments to make your designs stand out. Experiment with different pen tip sizes for varying line thicknesses.
How to Print Bookmarks for Coloring
For best results when printing your bookmarks for coloring, match your printable bookmark paper to the type of coloring tools you'll be using.
For most printing, either an inkjet or a laser printer will work fine. If you'd like to add foil to your bookmark, you'll need to use a laser printer for your foiling machine to work.
The quality of the paper can greatly impact your coloring experience and the longevity of your finished artwork. Medium-weight (around 65lb) white card stock is good for most printable bookmarks.
It's great for dry coloring supplies like crayons and colored pencils and, when matted on a colored card stock background, is sturdy enough for regular use.
My favorite paper for bookmarks to color is a heavyweight 110lb bright white card stock. Heavy card stock is sturdy enough to stand up to wet coloring supplies like markers, gel pens, and acrylic paints. It can be used on it's own without an extra mat if desired.
To use watercolor paints or pencils on your bookmark printables, use specific watercolor paper to prevent warping.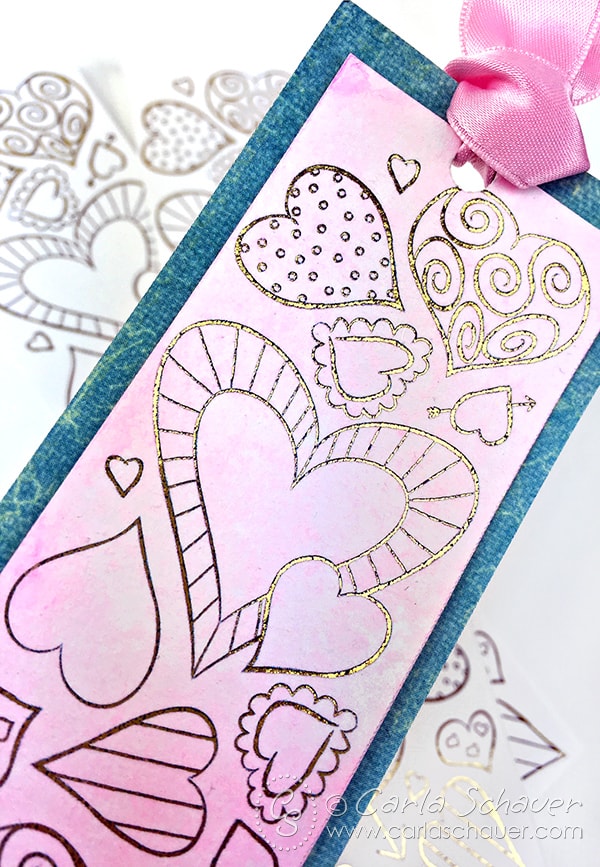 DIY Bookmark Coloring Tips for Adults
To ensure a satisfying coloring experience and preserve your finished bookmarks, consider the following tips:
Color Selection: Plan your color palette before diving into coloring. Consider the overall theme or mood you want to achieve. Experiment with complementary colors, analogous colors, or monochromatic schemes to create visually pleasing combinations.

Test colors on a separate sheet of paper before applying them to the bookmark.

Avoiding Smudging: When coloring, rest your hand on a clean sheet of paper or a protective barrier to prevent smudging the colors or transferring oils from your hand onto the bookmark.

Start coloring from the top of the bookmark and work your way down to avoid accidentally smudging previously colored areas.

Layering and Blending: Experiment with layering colors to create depth and dimension. Start with lighter shades and gradually build up intensity by layering darker hues.

Use a blending tool such as a blending pencil or a cotton swab to smooth out harsh edges and create seamless transitions between colors.

Protecting Your Artwork: Once you finish coloring, consider laminating your finished bookmark to protect it from wear and tear. Laminating not only adds durability but also enhances the vibrancy of the colors.

Alternatively, you can use these clear sleeves or adhesive-backed laminate sheets to cover the bookmark. This will help preserve your artwork and keep it looking fresh for a long time.
Fun Bookmarks for Kids to Color
Free printable coloring bookmarks are a fun activity for kids of all ages. Each child can make an easy project and have their own bookmarks to keep or give away.
Use different designs throughout the school year for lots of mini-art projects kids will enjoy.
Kids can add a message to the back of the bookmark, and glitter glue or other fun embellishments too.
Backing the finished bookmark is a great way to hide any color bleed-through from heavy-handed artists. Punch a hole near the top, then tie ribbon or yarn through the hole.
For extra protection from sticky hands, laminate their cute new bookmarks before using the hole punch and adding any ribbon.
Free Printable Bookmarks to Color
Free Bookmark printables to color and craft. Kids and adults will love these printable bookmarks for holiday, seasonal, or everyday use. Coloring bookmarks also make a cute party craft or activity.
Pin these Printable Bookmarks to Color Later:
Your shares are how this site grows, and I am genuinely appreciative when you do. Pin to your Rock Painting Pinterest board or share this idea to a craft group on Facebook.