'Tis the season for gift tags! December is filled with gift-giving opportunities, and having a supply of gift tags already made definitely helps make the wrapping process flow smoothly. These glittery, scalloped tags add sparkle and style to any gift, whether it's wrapped in bright colors or kraft paper. I made these tags for Christmas, but varying the stamps and colors would make them appropriate for any holiday.
Since the steps for making these glittery gift tags are pretty straightforward, these tags are easy to make assembly-line fashion. Start by cutting or punching white cardstock into 1.75″ squares, and stamping a holiday image in the center of each square. Use the same ink color to brush ink directly from the pad to the edges of the cardstock squares.
Next, use a 2″ scalloped square punch to cut the sparkly backgrounds from glitter cardstock. Glue a stamped white square onto each glittery scalloped background layer.
Add more sparkly accents to the gift tags using glitter glue in a contrasting color.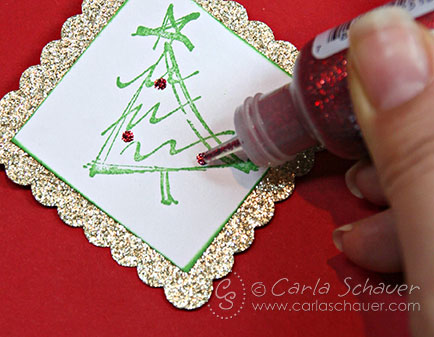 Once all the assembled tags have dried completely, punch a small hole in the top of each tag and add 1/4″ wide satin ribbon. When making tags in advance, I like to use ribbon pieces around 11″ long so I have enough length to tie on most gift sizes.
These glittered, stamped gift tags are great for making in batches (while watching The Voice in my case) or in stages while other projects are drying. Add them to anything to spread some holiday cheer!
Thanks for stopping by!
Until next time…
Carla