Make Halloween Painted Rock Eyeball Decorations with Pens
If you're looking for a slightly spooky, fantastically fun craft for Halloween, painted rock eyeballs are just the right project. You can make them more creepy realistic or more cute cartoonish to fit your style by varying the detail of your rock painting.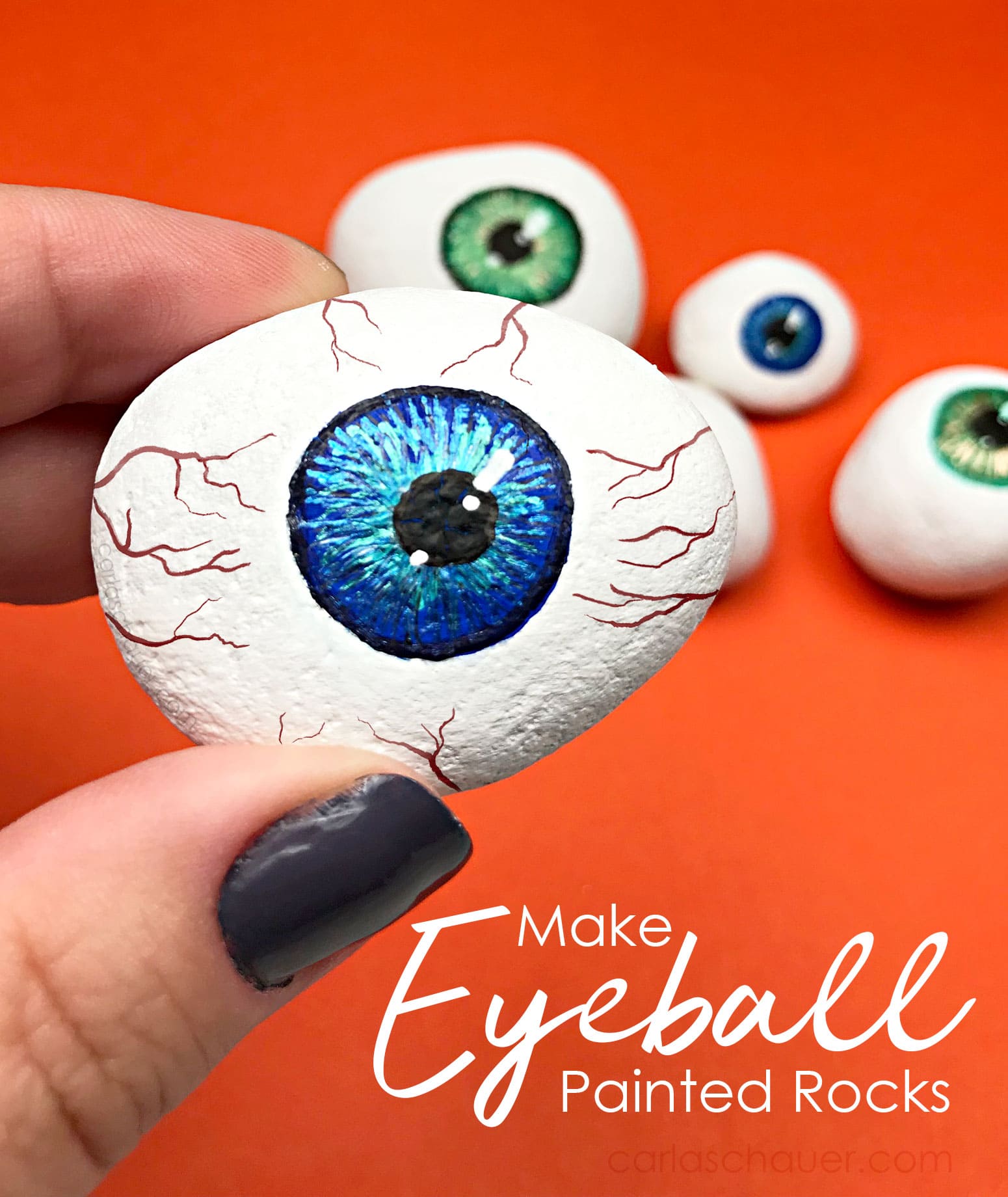 I had so much fun painting these! After each one I had a little giggle at how much I enjoyed making it different from the last.
Since these eyeball painted rocks only need a few supplies, they're easy to make. And they don't necessarily need to be super-realistic, so they're a great craft for all ages.
This post may contain affiliate links. I could earn a small commission from purchases at no cost to you.
Using gel pens, at least one metallic, give a fantastic gradation that mimics a real pupil. You can use regular acrylic paints or paint markers for this project, or a mixture of both. For the red veins, an ultra-fine marker or tiny spotter brush will give the best results.
What to do with Halloween Painted Rock Eyeballs?
Add to a glass jar or bowl in a Halloween vignette.
Pop into a potted plant for an unexpected Halloween surprise.
Put back into landscaping rock for people to notice.
Hide near a path for someone to find.
Hot Glue onto a black wreath for a door decoration (or use the same painting technique on ping-pong balls for less weight).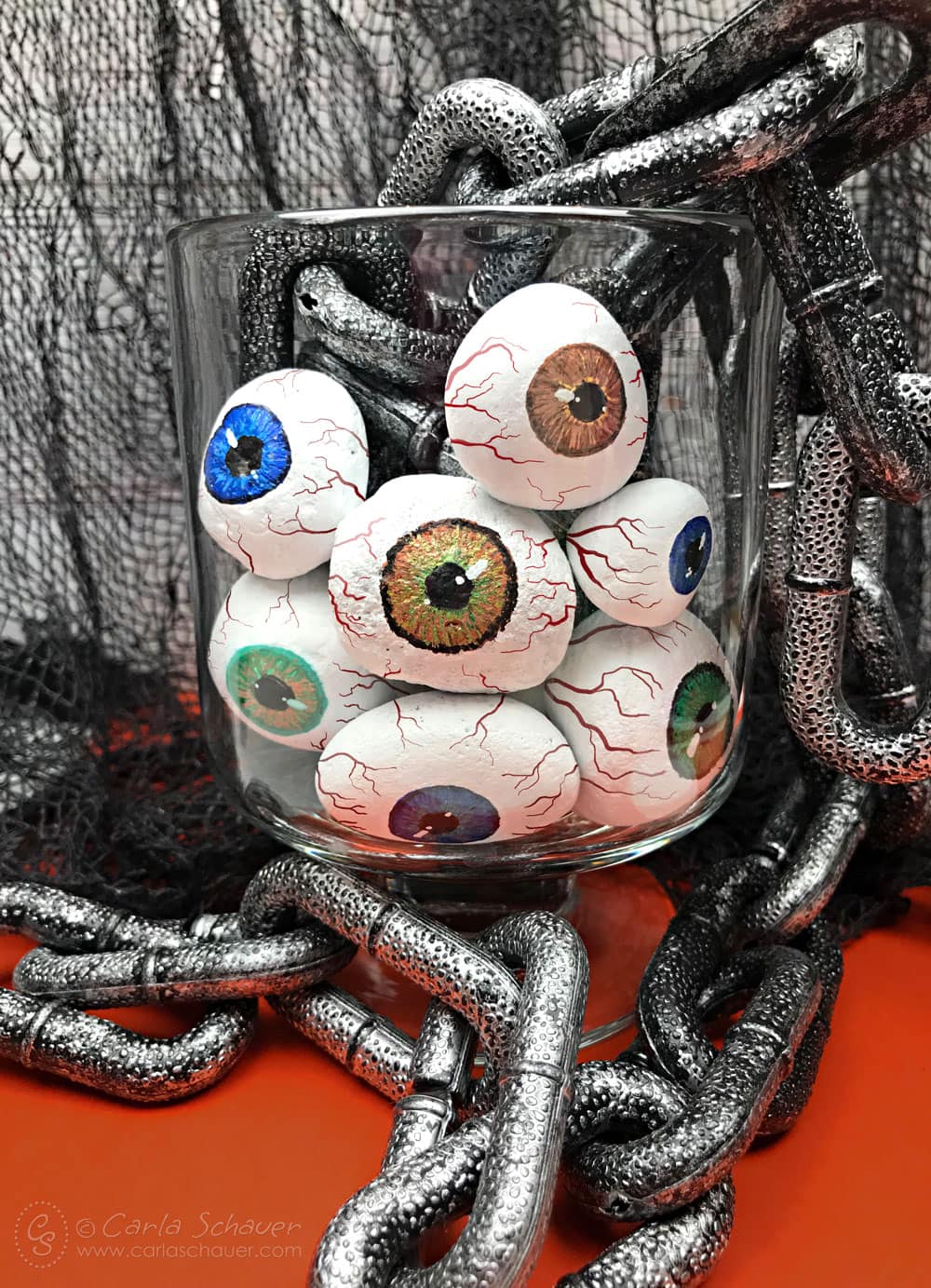 Related Post: Rock Painting Ideas You can Make

How to Make Eyeball Painted Rocks:
Varying the markers and gel pens will give variety to your painted eyeball colors. The sky is the limit, just like with real eyeballs.
Using blues, greens, and aquas will make blue irises. Make green irises using green and gold supplies. Browns, golds, and coppers will create brown irises.
My tutorial below gives the instructions for a blue painted eyeball rock.
How to Make Halloween Painted Rock Eyeballs
Make eyeball painted rocks using acrylic paints or paint pens. Add some Halloween flair to your decorations with this creepy craft for all ages.
Materials
Smooth round rocks
Acrylic Paint -white
Fine-tipped Acrylic Paint Markers -black, blue (light and dark), aqua
Extra-fine Acrylic Paint Marker- white, red
Gel Pens- multiple colors blue, aqua, green, as desired
Glossy sealer
Tools
1/2" flat paintbrush
small detail paintbrush (optional)
Instructions
Paint base coat on all rocks using 1/2" paintbrush and white acrylic paint. Use 2-3 coats as needed to cover, and dry completely.



Draw blue circle in center of rock top and fill in to make the base color for the iris. Add darker blue layer around outside of iris.



Choose a lighter aqua or green for the center of iris, and draw a jagged circle to add gradiation to the eye. Fill in with the same color.
Use gel pens to draw thin lines within blue ring to create depth as shown. Leave darkest outer ring untouched. Begin with dark blue and alternate lighter and darker shades over top until you reach desired effect. I like to add one metallic color to provide a little realistic reflection shimmer.



Draw black filled circle in center of iris for pupil. When dry add a highlight to the pupil using white paint marker.



Use red paint marker to draw branching veins from back of eyeball painted rock toward front. *note* You can also use red gel pens or a tiny detail paintbrush and acrylic paint to make the veins. Using thick lines toward the back of the rock eyeball and thinner lines toward the front will give a more realistic look.



After paint is fully dry, apply glossy sealer following manufacturer's instructions to protect paint and add more realism.
Notes
Eyeball painted rocks can be made using acrylic paints and small detail paintbrushes instead of paint markers if desired. I prefer the markers for ease of use and control (and cleanup!). Vary marker and pen colors to make other colored irises.
Recommended Products
As an Amazon Associate and member of other affiliate programs, I earn from qualifying purchases.
Pin these Halloween Painted Rock Eyeballs for later:
Your shares are how this site grows, and I am genuinely appreciative when you do. Pin to your Rock Painting Pinterest board or share this idea to a craft group on Facebook.