Want a face tattoo? OK, maybe not for everyday. But a temporary tattoo for a special occasion is a fun way to show your personality, humor, or fandom. Learn how to make your own temporary tattoos at home with your printer, using your own designs or purchased/free downloaded sheets. Apply your DIY temporary tattoos to your face or body, and (temporarily) show your passion for the big game, holiday, or event.
Why Make a "Fake" Tattoo?
Of course there are single-day events where fun is the name of the game. And they're always great for kids. But perhaps you'd like to test a new tattoo design before you make it a permanent addition to your body. Creating a realistic temporary tattoo of your possible image lets you "try on" your tattoo for a few days to see if you'll like the placement long-term.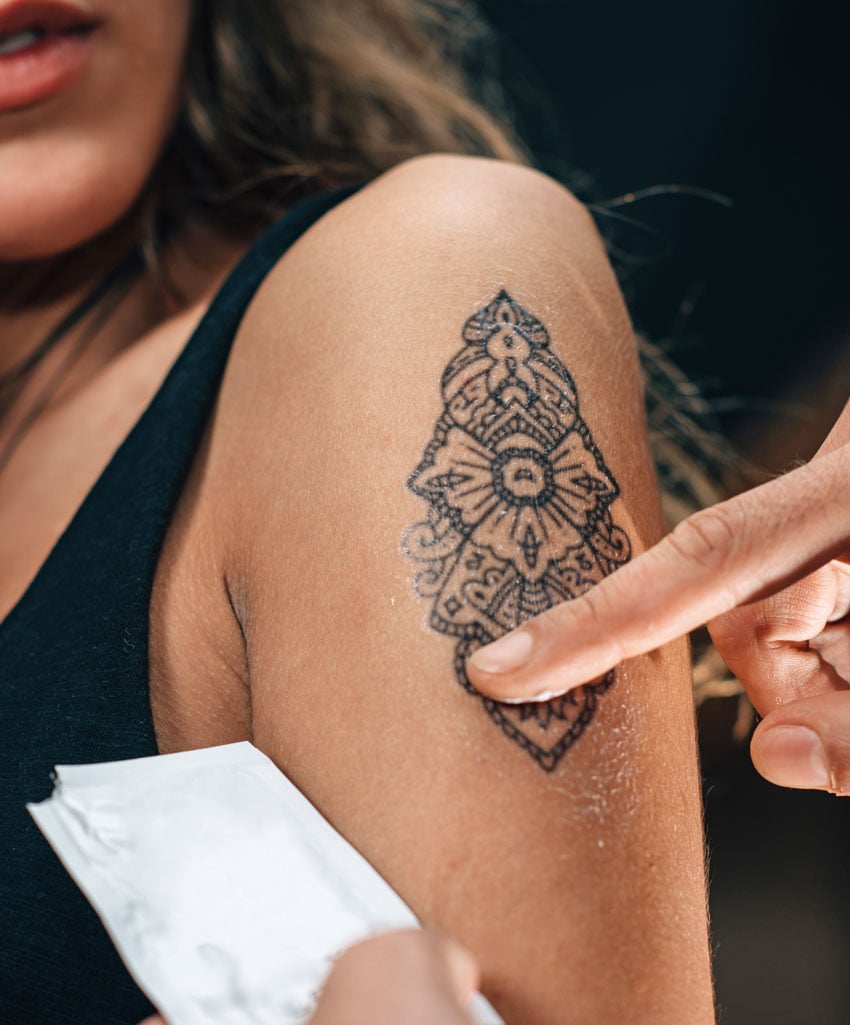 Or, if you're like me, indecisive and allergic to pain, DIY temporary tattoos give you a no-commitment (pain-free) way to enjoy a custom body art design. When you make your own temporary tattoos, you can change and customize your tattoo art as much as you like.
This page may contain affiliate links. If you make a purchase through my link, I will earn a small commission at no extra cost to you.
To Print Temporary Tattoos
To print temporary tattoos at home, you will need Printable Temporary Tattoo Paper and a printer. Make sure to match your paper to your printer type, inkjet or laser. You'll also need a computer (with a design program if creating your own images) and a hard straight edge like an old credit card, along with scissors to cut out your tattoos after printing.
Finding Tattoo Images:
You can draw and color your designs by hand and upload them to your computer.
Use computer design programs like Adobe Photoshop or Illustrator, to draw and color your designs directly on your computer.
Draw your designs in an iPad drawing app like Procreate, then upload to your computer.
Download free or paid pre-designed temporary tattoo design sheets from a designer.
*friendly reminder – never use designs found online without specific permission from the artist. It's a copyright violation and in general, just bad internet manners.*
I've designed two sets of images for you to use for your temporary tattoos.
Summer Temporary Tattoo Sheet (used in the tutorial below)
How to Make Temporary Tattoos
Additional Time:
5 minutes
Estimated Cost:
under $10
How to make DIY temporary tattoos using your home printer.
Tools
Printer
Computer Design Program (if desired)
Hard Straight Edge, like credit card or metal ruler
Scissors
Instructions
To Print Temporary Tattoos
Create your temporary tattoo design using your favorite computer design program, iPad app, or by hand (upload hand drawn designs to computer).

Flip your design sheet horizontally, so that all designs and text are backwards. This will allow your designs to display properly when applied. Save your designs as a jpeg or pdf file for printing.



Change printer settings to "best" quality and "glossy" paper. Print a test page on regular printer paper to make sure designs are printing properly. Print designs onto shiny side of tattoo paper, then set aside to fully dry. Drying will take several minutes.

Starting with a top corner, peel away blue side of adhesive sheet approximately 2 inches. Align with top edge of printed design sheet.



Continue pulling away adhesive sheet film and applying to printed design, smoothing away air bubbles with the straight edge. Burnish entire sheet again with straight edge to make sure adhesive attaches completely.



Cut apart designs with scissors.




To Apply Temporary Tattoos:
Peel away the clear backing from the temporary tattoo, exposing the adhesive.




Place tattoo face down on clean face, arm, or other body part.



Hold a damp/wet cloth or paper towel on temporary tattoo and hold in place approximately 30 seconds. Gently lift one corner of white tattoo paper to see if tattoo has released. Continue holding the damp towel if necessary.



Lift off white tattoo paper, leaving new temporary tattoo design on skin.


Notes
Please use only images that you own or have permission to use for your temporary tattoos.