No beach vacation is complete without a walk on the sand to collect seashells, and finding a large complete shell is extra exciting. But what to do with your beach treasures once you return home? Make DIY Candles in Seashells to incorporate your vacation memories in your home without them being stuck in a jar.
Seashell candles are an easy shell craft that can turn a simple beach memory into an elegant coastal decoration. Larger shells are best for this project, since they will hold enough wax to burn safely.
How to Make Seashell Candles
DIY seashell candles are a great way to use up small amounts of wax in jar candles, or use household paraffin wax blocks like I did here. You can use seashells from vacation or large purchased shells.
Tip: Make several wax crafts at the same time to use most of your wax while it's already melted.
Seashell Candle Making Tips:
When crafting with seashells, make sure your shells are completely washed and dried before beginning.
Prepare your surface and protect it from wax splatters that may happen when pouring. A sheet of waxed or parchment paper makes a good disposable barrier.
Trim wicks to approximately 2″ long for ease of standing in shells
Attach wick to deepest part of shell, while shell is laying flat on a level surface. A dot of melted wax on metal end of wick can help keep it in place while pouring.
A pour spout on a wax melting pitcher makes filling small containers like seashells easier. If already using a plain metal can for other projects, a small ladle with a spout can be helpful.
If making scented seashell candles, add essential oils to melted wax before pouring into shells.
This page may contain affiliate links. If you make a purchase through my link, I will earn a small commission at no extra cost to you.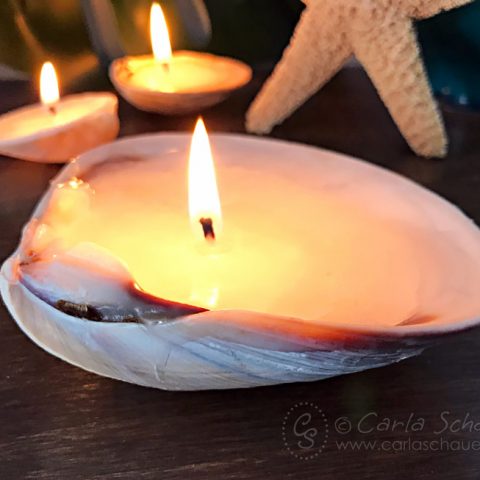 Make Candles with Seashells
Yield: 1+

Prep Time: 10 minutes

Active Time: 5 minutes

Total Time: 15 minutes

Difficulty: 1-easy

Estimated Cost: under $10

How to make beach decor candles with seashells and melted wax. An easy DIY seashell craft to make with large shells you find on vacation or at a craft store.
Materials
Empty 40oz metal can, label removed or wax melting pitcher
Waxed Paper
Tools
Saucepan, medium
bamboo skewer
Instructions
Prepare while wax is melting. Cover work surfaces, attach wicks with drop of melting wax, and trim wicks to 2" length.



Fill 1/3 to 1/2 saucepan with water and heat on low-medium. Chop paraffin block into chunks (optional) and add to metal can or wax melting pitcher.



Gently lower can or melting pitcher into water bath. As paraffin wax begins to melt, reduce heat to low. Stir occasionally with bamboo skewer for even melting.



Gently pour melted wax from pitcher into seashell. *pour from low height, being careful of splashes*



Allow wax to cool and harden. Trim Wick to 1/4" above wax.



(Optional) As wax hardens, a "dip" in the wax surface may occur. If desired, a second thin layer of melted wax can be added to smooth the top of seashell candles.



Notes
**WARNING**

Melted wax is hot! Melt and pour with caution, and always supervise children.

Never leave burning candles unattended. Seashell candle burn time can not be estimated because of shell size and wax volume used.
Recommended Products
As an Amazon Associate and member of other affiliate programs, I earn from qualifying purchases.

Pin these Seashell Candles to Make Later: