Make German Stars for Christmas
I sipped my hot cocoa and watched their fingers fly, creasing and tucking the paper strips over and around and through, while the Christmas carols played and they chatted. They were making traditional German Star Christmas Ornaments from paper strips, and I was mesmerized. I was mystified at how the paper twisted and folded into shape, while my seven-year-old fingers snitched another strip of paper from the pile and bent it back and forth in a simple accordion fold.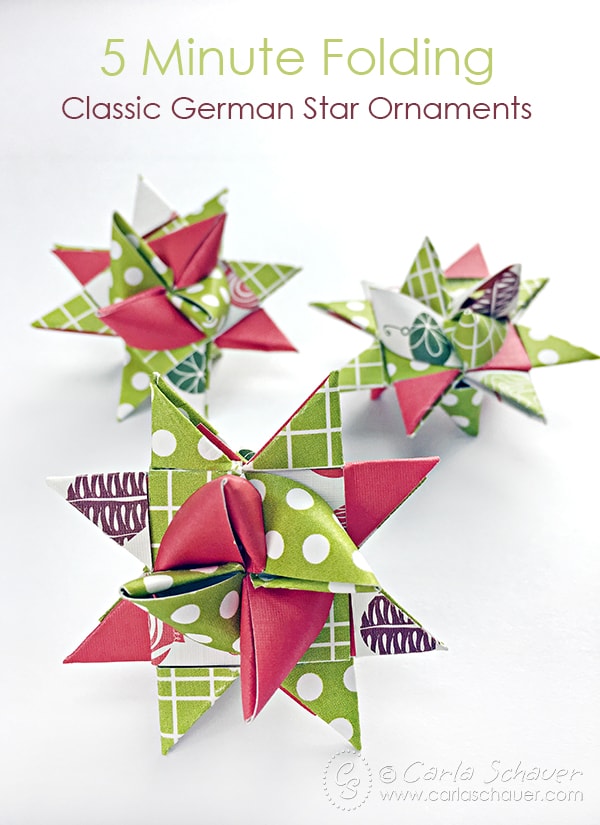 By the time I was 14, I was folding German star ornaments (also called Moravian Stars or Fröebel Stars) along with my mother and grandmother, making my own to hang on our tree. I've made a video to help you see how German Stars are made, step by step. It's a great reference for visual learners. The written steps you can print are later in the post.
Not ready to make these Fröebel Star Ornaments yet?
Too busy to make these right now? No problem! Make sure you pin this post to your favorite Holiday Pinterest board so they're ready when you are. Your shares are how this site grows, and I am genuinely appreciative when you do.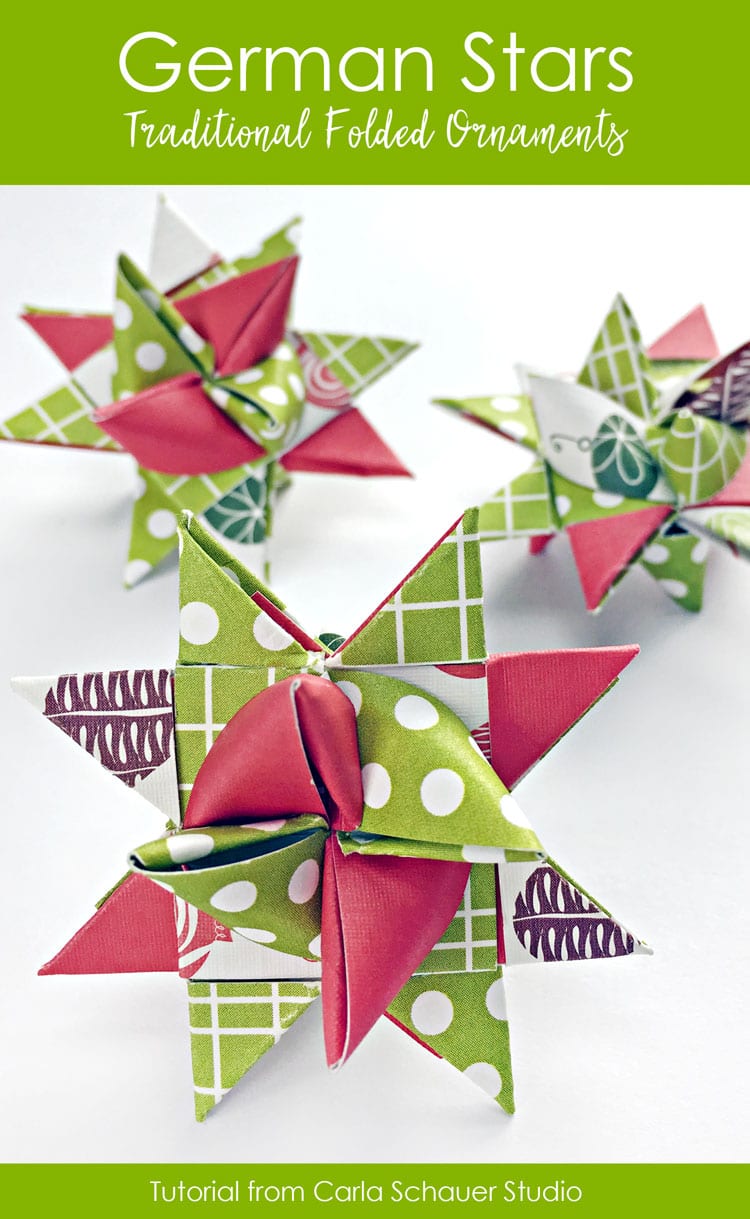 Once you get the hang of the folds, you can make a star in under 5 minutes. Make them in batches while watching your favorite show, or grab your teens and tweens and make some holiday memories.
This page may contain affiliate links. If you make a purchase through my link, I will earn a small commission at no extra cost to you.
What Kind of Paper Should You Use to Make German Stars?
Despite looking complicated, the ornaments are made from 4 strips of paper and a few simple repeated folds. You can use scrapbook paper like I did, or another double-sided paper, since you can see both sides after folding. I prefer thinner paper because it's easier to maneuver and makes nice sharp points. If you don't have paper on hand, you can get pre-cut paper strips and save yourself some time cutting.
If you're going to cut your own paper, the strips will need to be at least a 1:24 ratio. They can be longer (will give you extra "tails" to work with), but not shorter or you won't have enough paper to finish. To keep you from having to do the math, here's a handy dandy chart to make it easy.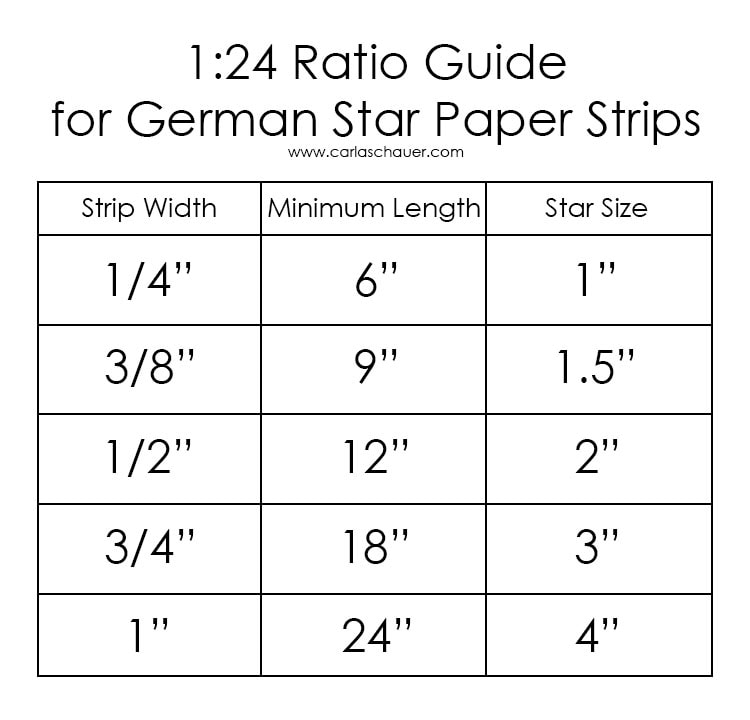 The size of your paper strips will determine the final size of your stars. Narrower strips will make smaller stars, wider strips will make larger stars.
Make German Stars With Bonus Glitter!
When you have finished making your batch of stars, you can hang them just as they are or add the "dip and sparkle" step (my 7-year-old-self's favorite part!). Adding this wax dipping step was traditionally used to waterproof the folded star ornaments for decorating outdoors. Even if you don't plan on hanging them outside, dipping your German stars in wax will help preserve the ornaments to reuse through the years.
I hope you enjoy learning one of my favorite Christmas traditions!
How to Make German Stars for Christmas
Yield: 1+

Prep Time: 5 minutes

Active Time: 10 minutes

Total Time: 15 minutes

Difficulty: 2

Estimated Cost: under $5

Traditional German Star (Froebel Star, Moravian Star) ornaments are made from 4 strips of paper, folded in a series of steps to make 16 points. They make beautiful holiday decorations hung on a tree or placed in a bowl.
Materials
4 double-sided paper strips of equal width ( 1/2" maximum for 12" scrapbook paper)
Needle and thread (or thin twine and hole punch)
Tools
Tweezers or Toothpick (optional)
Scissors
Instructions
In the first set of folds, weave the strips as shown below. Pull until snug, then fold top layer of strips to center as shown in video. Then flip over.



The second fold type has three steps (behind, down, and toward middle), then the tail tucks through the basket weave from before. Then you turn the whole shebang clockwise, repeat the rest of the way around. Flip it over and repeat on the other side.



The third fold type is the trickiest, since the end of the strip can get stuck in the side point. Tip: use a toothpick or tweezers if necessary to open the folds a little bit to let the paper strip slide through. Just like in the last type, you repeat your way clockwise around the circle, then flip and do the other side.



After trimming the excess ends with scissors, use a needle and thread to add a loop for hanging through one of the side points of the star. Or for a more rustic look, use a small hole punch and thin twine.



Optional: Wax dip and glitter star ornaments.


Notes
Once you've mastered these simple folds, you'll be making German stars in no time at all!
Recommended Products
As an Amazon Associate and member of other affiliate programs, I earn from qualifying purchases.

Pin it to make later: