Paint a wooden birdhouse and add flower buttons for a bright spring "garden" decoration. I love unfinished wood pieces, because I can make them into anything I'd like with a little acrylic paint and a few embellishments. I'll tell you how I made my birdhouse, and you can enter to win prizes from Buttons Galore & More!
For this Buttons Galore & More Challenge, I started with a plain wood post-style birdhouse purchased from a craft store. I always like to sand these because they can be a bit rough to start.
Then I picked up my Decoart Americana Acrylics (see my acrylic paint storage here) and some small brushes and got to work painting the sections of the birdhouse. Also, I went back and resanded the piece after this photo was taken with a smaller grit sandpaper, since I wasn't happy with the roughness that remained.
Once I had all the sections painted, I added a chevron line across the bottom of each side of the roof to add another layer of detail. I then went over the entire house with a dry fan brush and some Whitewash acrylic paint to bring all the colors together and add a bit of a weathered look.
Once the base painting was finished, it was time to add my button flower garden! A tiny detail brush and green paint were used to create the flower stems on both sides of the birdhouse. Then, I went back to the same birdhouse colors to paint in the flowers themselves, making three of the flowers large enough to accommodate the Buttons Galore & More Sweetheart micro button centers. Once I glued on the micro buttons and the flower buttons from the Mixed Grab Bag, my birdhouse was complete.
See what the other Buttons Galore & More designers did with birdhouses using the links below. Here's how you can win.
How to win a Buttons and Birdhouse Prize:
A commenter on Buttons Galore & More blog post will win a $10 Starbucks Gift Card, and a $10 pair of FISKARS scissors (yay!)
Two random commenters on the designers' blogs will get a package of buttons. (So make sure to leave a comment here, and on the other links!)
The designer with the most votes on the Buttons Galore & More blog post will win a $10 Starbucks Gift Card. (Vote for one of the awesome designer birdhouses when you comment on the BGM post, we love coffee!)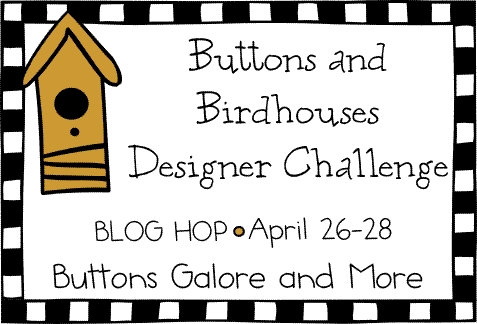 Carla Schauer (me)
Allie
Tracy
Angie
Mai
Holly
Jen
Laura B
Laura K
Enjoy the button and birdhouse inspiration!