Decorate a Road Trip Travel Binder for Tweens
Are we there yet? How much longer until we get there? Mom! He's squishing me!
Not your idea of a fantastic road trip? Me either. That's why I do my best to head off the whining before it has a chance to start with a road trip travel binder for tweens.
I've told you why we (mostly) don't use electronics on road trips and try to use more old-school games and fun instead. Today, I'm showing you how we keep all our individual tween gear from spreading all over the car never to be found again.
It's as easy as a 1/2″ white binder, a 3-hole punch, and some craft supplies.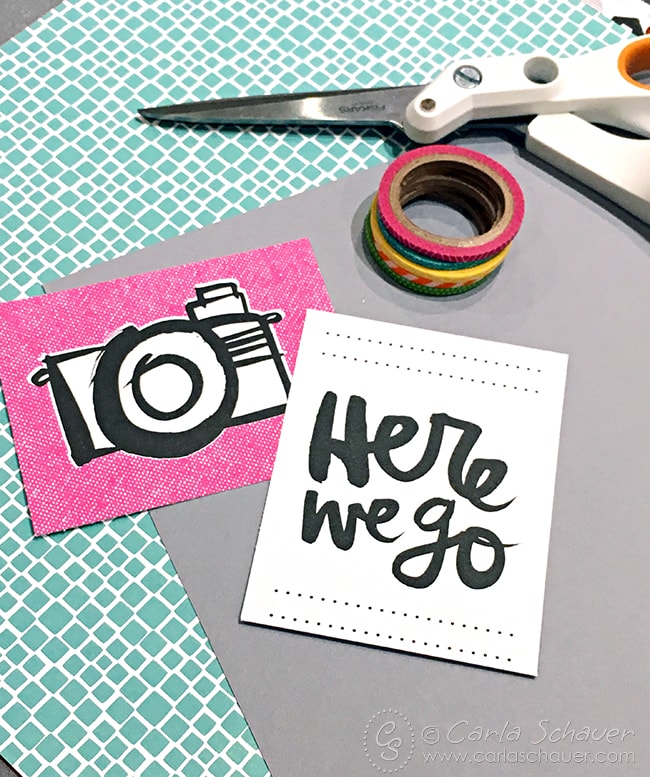 How To Make a Road Trip Travel Binder
Start with an 8.5×11″ piece of cardstock and some flat embellishments. Travel-themed stickers, die-cut pieces, washi tape, and markers all work well for this project. They can be travel themed, or whatever extra supplies you have on hand.
I used pre-made travel cardstock cut-outs and washi tape for my example, and hand-cut the title from patterned paper. Have your tweens decorate their binder covers, and set the cover aside to dry if necessary.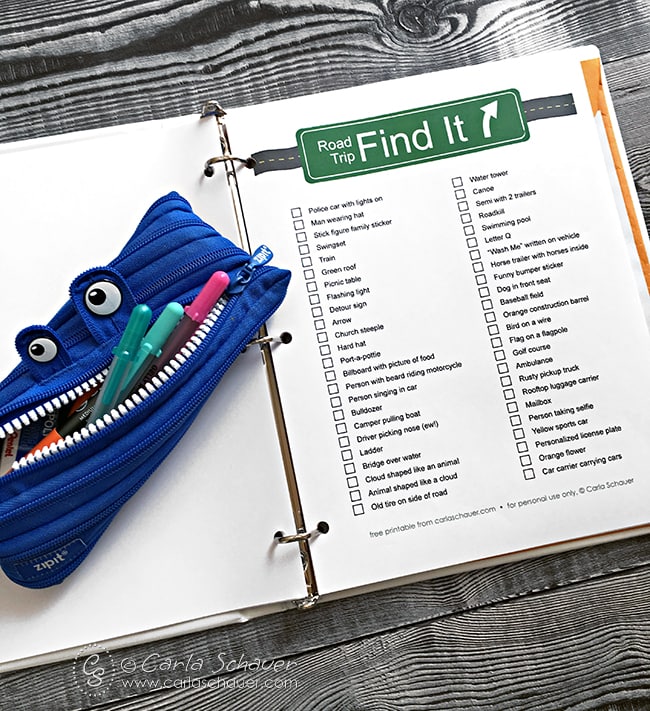 While the cover is drying, the kids can 3-hole punch and fill the binders with travel activities. Include:
To contain maps, brochures, and other small souvenir doo-dads picked up along the way, hole-punch an 8.5×11″ manila envelope and add to the back of the binder.
If you have an artsy tween, adding a zipper pouch in the front of the binder to hold colored pencils is super helpful.
Don't want to mess with crafting, but still want the functionality of a travel binder? Try this travel themed 3-ring binder that's ready to fill.
With 15 minutes of craft and prep time, your tweens have a set of activities for your road trip to keep them busy and entertained without spending the entire trip connected to a screen.
Travel Binder Instructions
You can print these travel binder instructions, or save to your favorites by using the buttons in the instruction card below. The best part about this craft is that it can look however you want!
How to Make a Travel Binder
Make a travel binder to hold printable travel activities like scavenger hunts and contain memorabilia.
Materials
1/2" white 3-ring binder with front clear pocket
travel themed craft supplies (paper, die-cuts, stickers, etc.)
washi-tape
cardstock
clear 8.5x11 page protectors (optional)
Tools
paper glue
scissors
3 hole punch
Instructions
Cut cardstock to 8.5x11 inches, or desired size.
Glue die-cuts, or other travel embellishments to cardstock
Use washi tape to add decorative elements.
Punch holes in printable travel games (or use clear page protectors) and add inside binder.
Punch holes in manilla envelope and add to binder.
Slide decorated cover into front pocket.
Recommended Products
As an Amazon Associate and member of other affiliate programs, I earn from qualifying purchases.
Share this Road Trip Travel Binder with Friends:
Your shares are how this site grows, and I am genuinely appreciative when you do. Pin to your Rock Painting Pinterest board or share this idea to a craft group on Facebook.
Until next time…
Carla