The right rock painting supplies help make your gorgeous designs more successful from the beginning. But if you haven't painted rocks before, trying to find the best paints, tools, and sealers can be confusing. Keep reading to find all my no-fail stone painting supplies, plus a printable checklist to help.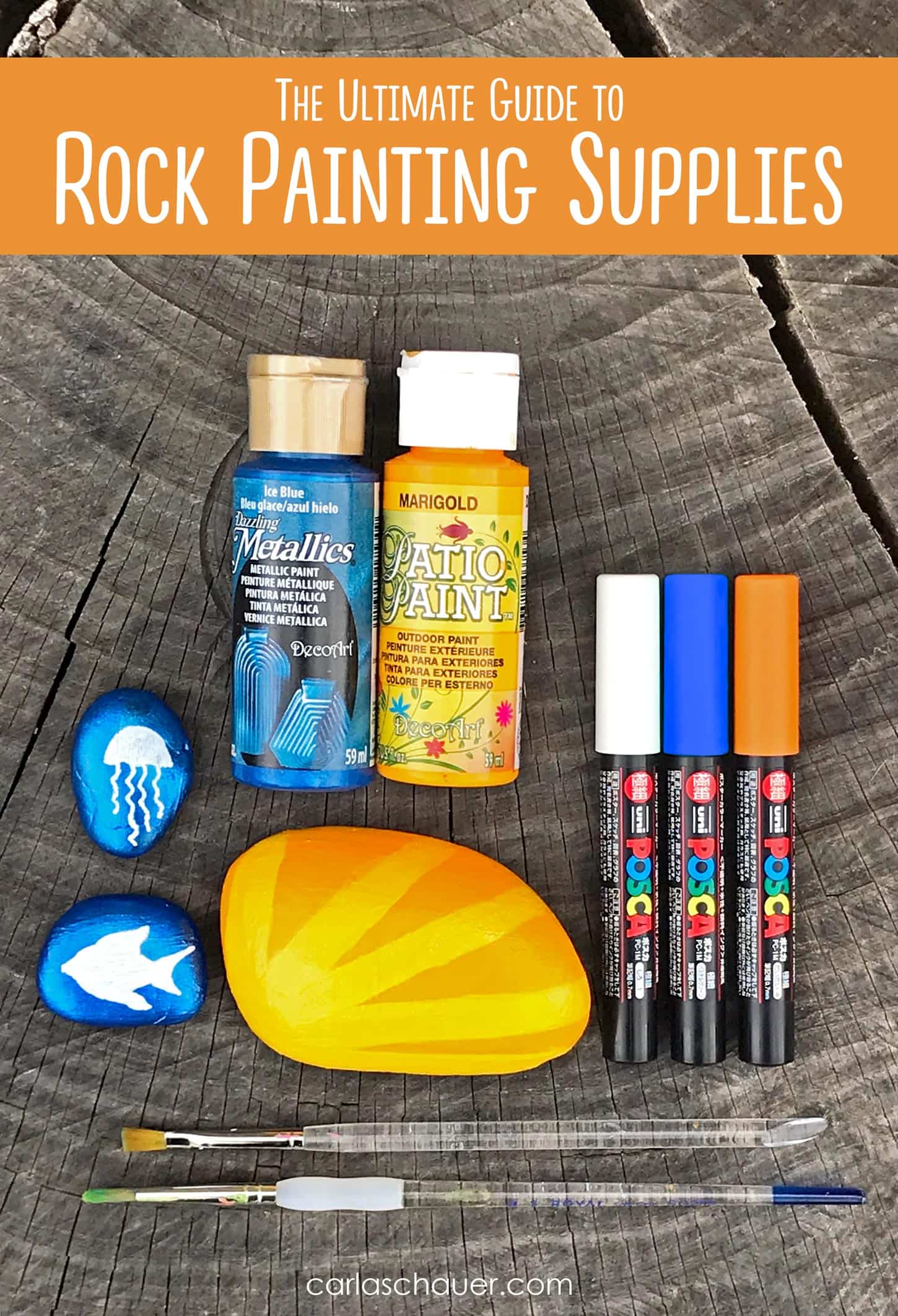 Related Reading: Everything you need to know about Rock Painting.
Now that I've been painting rocks for several years, I've tried an extensive variety of acrylic paints and painting tools. I've taken care of all the testing for you, and combined my results into this guide to the best products for painting porous materials like stones.
Paint. Rocks. That's it, right? Well, yes, sort of. But if you want to create painted rock designs that will look great and last a long time, there are definitely some supplies that work better than others. You'll save time and expense by knowing what you need to paint rocks before you begin.
Printable Guide and Quick Start Checklist
I get it, you're busy. No problem! Get this rock painting supply guide pdf PLUS a printable quick-start checklist so you can read it and get started whenever you have the time. Enter your email below to get the guide and weekly Creative Crew emails.
This page may contain affiliate links. If you make a purchase through my link, I will earn a small commission at no extra cost to you.
Best Paint for Rocks
Of course when you're gathering rock painting supplies, you need paint. As you're deciding on what kind of paint to use for rocks, there are a couple things you want to keep in mind. Make sure the paint is highly pigmented so fewer coats are needed to get coverage. It should also have good adhesion properties so it sticks to the rock.
What Kind of Paint Works Best for Rocks?
The best paint for stones is, hands down, acrylic paint. It goes on smoothly, and gets rocks painted quickly and easily. But not all acrylic paint is equal, and there are other paints you can use to decorate rocks too.
Outdoor Acrylic Paint. – Water and weather resistant, acrylic paints made especially for outdoor craft projects are ideal paints for rock crafts. Their bright colors are thick, pigmented, and adhere wonderfully to rock surfaces. Plus, they don't need sealing (though you can). You can't go wrong with Americana Patio Paint. It's quick-drying and the colors are saturated. This paint does need a day or two to cure before using outside.
Multi-Surface Acrylic Paint. – Designed for use on all surfaces, including rocks, this satin finish acrylic also doesn't need a sealer. I like Americana for it's self-leveling features. Martha Stewart multi-surface paint is also a thick smooth multi-surface paint that comes in a variety of finishes, and is a popular choice for rock art painting. It does tend to chip after multiple coats, so I prefer it for dots and designs rather than base coats.
Craft acrylic paint.- Regular craft acrylics will also work just fine as paints for rocks. You may need a few more coats of paint to get the design quality you're looking for (particularly if you're using a discount brand) but they'll get the job done. These paints also come in the widest variety of colors, and you may already have them around the house. You will need to use a sealer if using regular craft acrylic paints for stone painting.
Special Effect Paints. – Sometimes you just want a little pizzazz! Metallic and glitter finish acrylic paints add sparkle and shine to your painted rock crafts. You can paint the whole base with them, or just add fancy accents. Since the shine is part of the paint, there are no particles falling into the environment like regular glitter might leave behind. Try Americana Dazzling Metallics for a shimmery shine, Americana Craft Twinkles (chunky glitter paint) or Glamour Dust (fine glitter paint).
Puffy Paint. – Good for dimension and dots, and comes in shiny, pearlized, glitter, and other happy finishes. Try Scribbles 3D paint or Tulip Dimensional Paint. While the label says fabric paint, it's good for any surface.
Acrylic Paints for Base Coats
In stone painting terms, base coats are the common term for the solid color that covers the rock before any additional decorations are added. For rock painting base coats, craft, multi-surface, and outdoor acrylic paints (the top 3 options above) will give the best results. They're easy to spread, dry quickly, and can be blended together to give interesting results.
Ideally, the best base coat paint for rocks is also weather resistant if you are painting rocks for outdoors. The Patio Paint Acrylics are designed specifically for exterior use, so are a great choice if your painted stones will be displayed or hidden outside. You don't need a separate sealer with this paint, so you can save a step.
In a pinch, if you're traveling or working with limited supplies, you can use a wide-tipped acrylic paint marker to apply your base coat.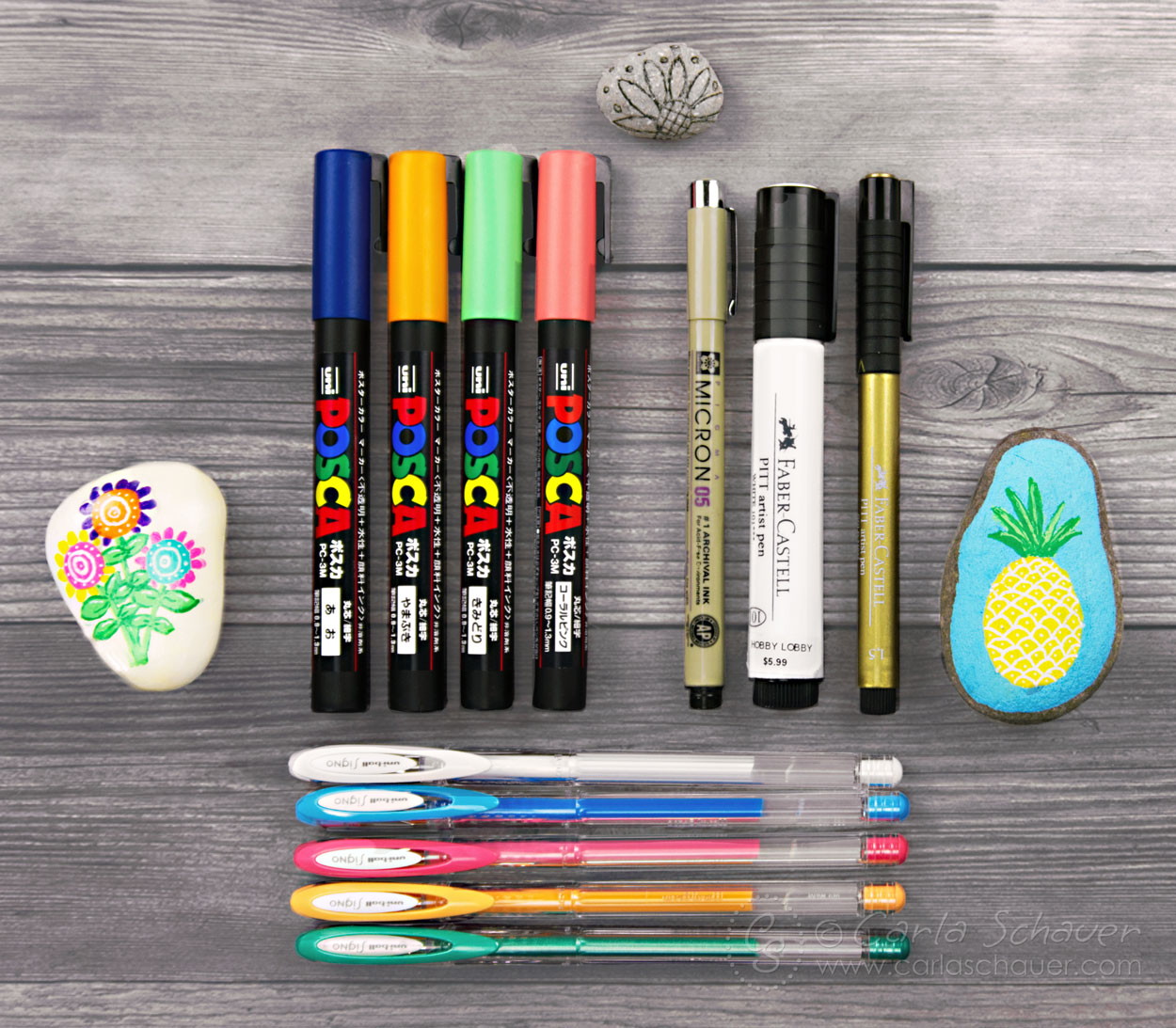 Best Paint Pens for Rocks
Paint pens can make rock decorating easier, with all the coverage of acrylic paint with a small tip size for detail. Here's a summary of excellent rock painting pens Find detailed reviews in my Paint Pens for Rocks guide.
Posca Paint Markers are all over the internet right now, and for good reason. They're pigment paint markers that are non-toxic, water based, and permanent on porous surfaces like rocks. Not only are they my choice for the best paint pens for rocks, they're my overall very favorite paint supply for painting rocks, and a new favorite for other applications as well.
Sakura Pen-Touch paint markers are a great all-around paint marker for a variety of surfaces, including smooth rocks. My favorites are the metallic bullet point markers. The finish on the metallic pens looks beautiful on painted rocks.
Sharpie Oil-Based paint pens dry glossy for a fun finish. They come in lots of colors and dry quickly. Plus they can be found in most big box stores, which is a convenience over the other good paint pens for rocks. Sharpie Oil-Based markers also don't bleed or change colors when sealed like regular sharpies do.
Pitt Artist Pens are high quality artist pens filled with India Ink, which is permanent and fade proof. The dark colors cover especially well, and the tip is solid enough in both the regular and brush-tip versions that it won't bend or smush. While pricey, Pitt Artist Pens will last a long time and can be used for a variety of other mixed-media projects. A black and a white pen are great pieces to start, and are a no-brainer to use if you already have them in your art stash.
Rock Painting Tools
Of course, if you're using bottled paints rather than acrylic paint markers, you'll need brushes or other rock painting tools to apply it. Additionally, as you're looking for supplies for rock painting, don't discount some non-paint products, which can give lovely details.
Brushes. – You'll need a flat brush or two for base coats or bigger surfaces. For this, ½"-1″ is a good all-purpose size range. Small round brushes are perfect for details and writing words. A medium range mixed set of brushes is a good balance between price and quality.
Dotting Tools. – If you like polka dots or enjoy making mandala designs, a set of dotting tools can be helpful. Just dip and press for perfect circles.
Sharpie metallic markers. – Sharpies require a little finesse to prevent bleeding when sealing rocks (see below), but are readily available almost anywhere.
White pen. – A Signo Uniball White Pen is the top-notch choice for opacity and smooth white writing on rocks. White line art is especially pretty on dark stones.
Crayons. – While coloring on rocks won't work well, melted crayon rocks are a fun idea for kids to decorate rocks in a different way.
Stencils. – With a little maneuvering, a stencil can be a good way to block in a shape on your painted rock. Since rocks aren't a perfect smooth, flat surface, paint will likely bleed under the stencil. For the best results, use a very thin coat of paint to get the basic shape, then remove stencil and freehand another layer and detail decorations.
Tracing Paper. – If freehand drawing isn't your thing, or there's a specific design you would like to use, tracing paper is a great solution. A sheet of tracing paper between the design and the rock will transfer the image to the rock as you trace it.
Temporary Tattoos. – not comfortable with drawing your own art yet, or need something quick for a crowd? Temporary tattoos are an easy choice and come in all sorts of designs. Apply the same way as on a person, then seal for quick rock art.
Want to see my favorite supplies in action? Watch the Painted Rock Supplies video on YouTube
Where to Buy Rocks to Paint
With a little hunting in the right places, you may not have to buy rocks to paint at all. You can find smooth stones for rock painting near streams or rivers, or fun-shaped pebbles just about anywhere. Make sure to find out if collecting rocks in an area is legal first, otherwise you could meet with some hefty fines. If you're in an area where there isn't a plethora of flat rocks, you can find places to buy rocks to paint locally and online.
I snag mine from my own landscaping, since we replaced our mulch with river rocks years ago. But I'm the one who shoveled all those rocks into place, so I get to be the boss of me.
Your local landscaping supply stores will have a variety of sizes available from 1″-4″, or even larger. You can buy in bulk by the pound and it's a great way to get a variety of sizes to experiment with. There's also the added bonus of being able to choose your own sizes, shapes, and colors from the piles.
Home improvement stores often have large bags of flat river rocks. Craft stores will carry pebble-sized river rocks for crafts.
Amazon has multiple colors and sizes of flat stones for crafting. Having them arrive on your doorstep is an added bonus.
Etsy sellers have collected rocks for painting so you don't have to! It's also a great place to find beautiful rocks not found in your area.
You can even make your own rocks using this easy rock making tutorial from Ruffles & Rainboots. Use cement and these silicone rock molds to get the perfect round or oval shape you want.
Sealing Painted Rocks
Most painted rocks will need some kind of sealer if they're going to be hidden or displayed outside. Sealing painted rocks is as easy as a can of spray in most cases. Use a clear, non-yellowing, spray sealer like Krylon Crystal Clear, using 1-2 light coats. If you prefer the natural stone look, use a matte spray sealer. For a shiny finish, use a gloss.
Tips for sealing painted rocks:
Use a spray sealer for paint pens, puffy paint, special effects paint, or any painted rock that uses more than one type of decoration or mixed paint types.
Use a spray sealer over temporary tattoos and white Sigma pens.
A paint-on polyurethane sealer (Americana DuraClear) can be used if desired when working indoors or with children. A water-based product is not recommended for sealing outdoor painted rocks, but may be fine for those remaining indoors.
Try a thin layer of white glue over dried sharpie marker or metallic decorations before spray sealing to prevent blurring.
Rock painting is an entertaining craft for tweens and teens, but these smooth stones also make wonderful tiny canvases for grown-up art as well. Start with specific rock painting supplies or just use what you have on hand. You'll have a fantastic time creating something new.
Learn More About Rock Painting
Try these rock craft ideas and tutorials as a jumping off point for your own creativity.
How to Paint Rocks-Technique Tutorials
Rock Painting Ideas for All Ages
More About Painted Rock Supplies
Pin this rock painting supplies guide for later: