Week 6 already! Welcome back to the Triple Play Blog Hop, where 60 designers are giving their takes on the 656053 Sizzix Bigz XL Die – Album, Brackets by Brenda Pinnick.
My project this week was one of those projects that morphs along the way into something that ends up very different than how it started looking in my head. First one of the colors change, then another, add a little embossing, take away a little leafing… Until the traditional red/green/gold vertical banner becomes a pink/aqua/lime horizontal banner with 4 extra pieces. What can I say. I've never really been a traditional kind of girl anyway.
After I changed my mind a hundred times, I decided on an embossed brushed metal look. The pieces of the album arrived cut out of heavy white cardstock, so I embossed each piece with my Big Shot and the dotted embossing folder, then brushed them with a matte silver acrylic paint.
**Tick-tock-tick-tock-tick-tock–amuse myself by watching paint dry.**
Then, the rest of the project went together pretty quickly. I added aqua cardstock behind the open end album pages, and layered the silver and fabric brackets (from Brenda's Coulour Vie fabric line from Henry Glass &Co). The thin center bracket frame was hand cut from one of the open album pages and colored using aqua chalk ink.
One of the best things I've learned from Brenda is to never be afraid to add bold color, so I chose a bright citron green paint to tie the mismatched chipboard letters together. I used this paint drying time to ink and back the chipboard words I found while rummaging around for my letters, and add an extra hole in the brackets to match the one that came punched in the die-cuts.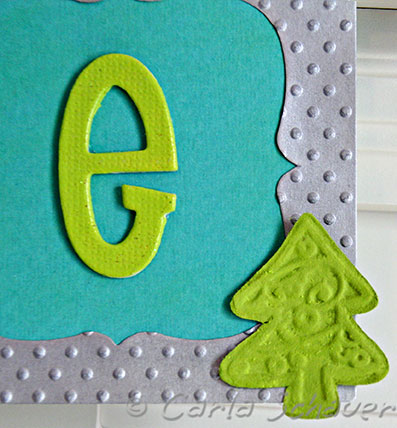 An aqua ribbon laced through the brackets for hanging and an embossed paper tree finished the project. I added the tree using a removable adhesive dot so I can take it off after the holidays and hang the banner in my craft cave. With our family schedule, I could use a little peace year-round!
Thanks for stopping by! Keep hopping using the graphic in the sidebar or check out the main list on the Sizzix blog, and don't forget to hop with us next week as we finish up the hop with some great treat topper Scoreboards by Eileen Hull.
Until next time…wishing you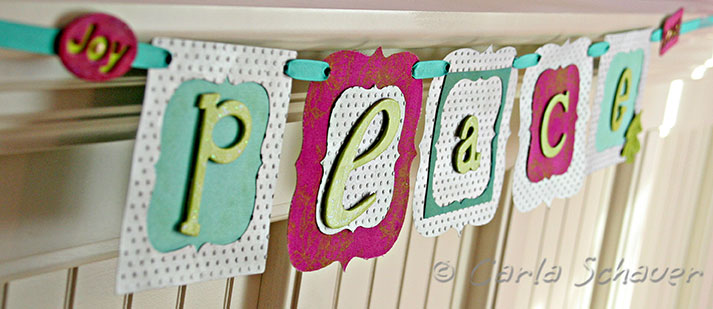 C.