I've added a new party to the printable shop! Just in time for all the July 4th barbeques and pool parties, Stars & Stripes is a classic, streamlined, patriotic collection in traditional red, white, and blue.
To show off the new collection, I created a dessert table with a denim backdrop and galvanized metal to create a comfortable, casual feel. I made festive desserts, featuring "Sparkler Pops" and "Uncle Sam-wiches", along with Red, White, and Blue mini-kabobs, cupcakes, gelatin cups, and a layered trifle. My family is incredibly happy with all the fun food in the house this weekend!
Free Coordinating Patriotic Decorations
Keep reading to see free patriotic medallions and sparkler holder printables that coordinate with the Stars & Stripes party.
I added the Stars & Stripes printable banner strung with thick white bakers' twine to the front of the table, and used the same twine with tags from the collection to wrap the licorice-filled cellophane bags and accent the candy display.
Flags trimmed to match the banner fly on the sprinkle-dipped, red velvet cake pop sticks, and cupcakes in coordinating patriotic wraps and toppers serve as a celebratory centerpiece.
This is an enormous patriotic party printable collection, the largest collection yet. I added both July 4th and non-specific patriotic pieces so the collection can also be used for Memorial Day and Labor Day parties, or any other America-themed gathering. Stars & Stripes also includes both customizable and fill-in invitations, bottle wraps and drink flags.

Coordinating Free Printable Patriotic Decorations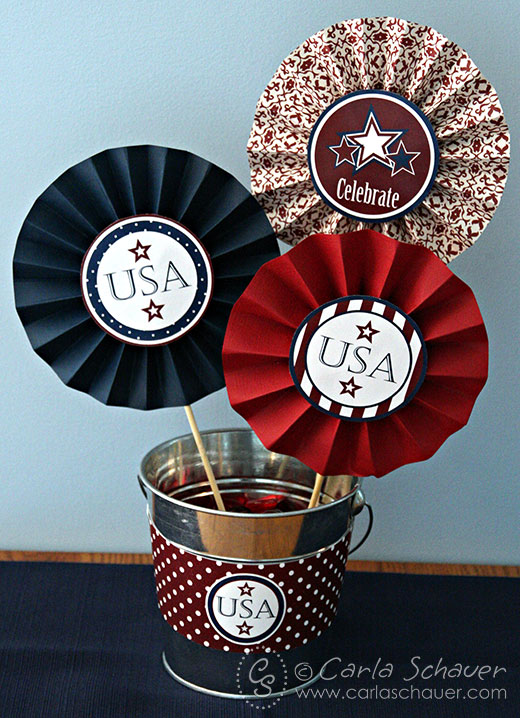 View the Patriotic Medallion Project tutorial.
View the July 4th Sparkler Holder project
Thanks for stopping by!
Until next time…
Carla