150+ Unique Things to Paint on Rocks
Jump start your creativity by picking an easy rock painting project from the idea list, and get started! Pick one category of things to paint on rocks or mix them all up, the key is to just start painting.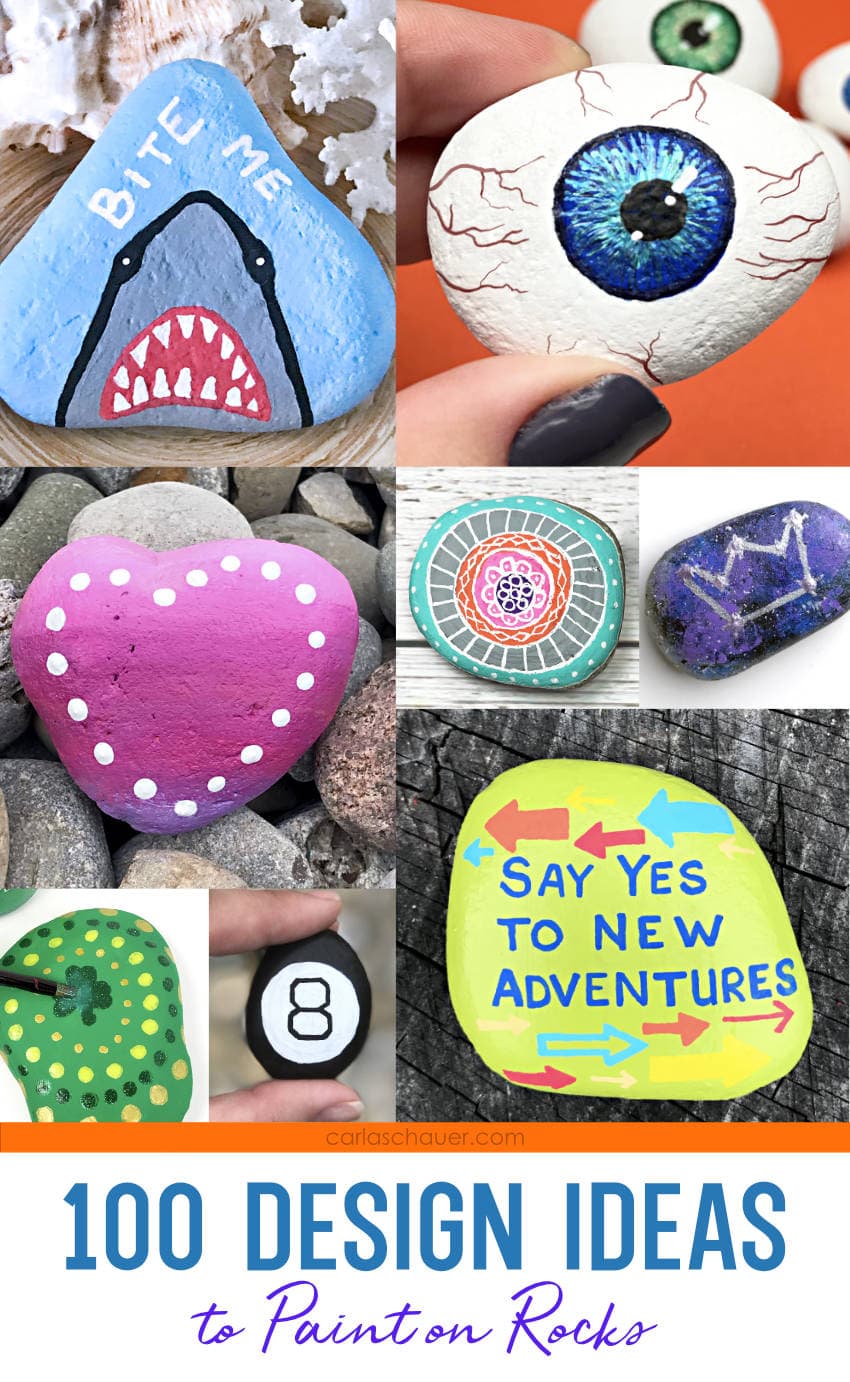 Not sure where to begin? Use my Rock Painting Supplies Guide to get an overview of what you need to get started painting rocks.
Choosing a Rock Design Idea
It's often easier to start with a basic idea of what to paint on rocks rather than a specific project. This is especially true if you are painting with a mixed age group or one with different experience levels.
If you're choosing a rock painting idea for adults or more experienced painters, you can make the design more involved and add extra embellishments. For children or beginners, a simpler design is an easier place to start.
Choose a suggestion from the list, and paint your own interpretation!
Nature Things to Paint on Rocks
Fall leaves
Sunshine
Clouds
Fruits and Vegetables
Seashells
Trees
Snowflakes
Sunset
Coral reef
Plants and Botanicals
Earth
Cactus
Painted Rock Phrases
Inspirational messages
Outdoorsy quotes
Knock-knock jokes
Geeky phrases
Movie quotes
Puns
Motivational messages
Book quotes
Haiku
Greetings
Jokes
Holiday Icons to Paint
Halloween eyeballs, ghosts, pumpkins, and bats
Christmas ornaments, trees, and wreaths
Valentine's Day hearts and love words
Thanksgiving turkeys
July 4th flags, stars, and firecrackers
Mothers' Day bouquet
Hanukkah stars and menorahs
Easter eggs
Octoberfest pretzels and beer
Gingerbread houses
Sugar skull designs
Mardi Gras masks
Chinese Lanterns
Animals to Paint on Rocks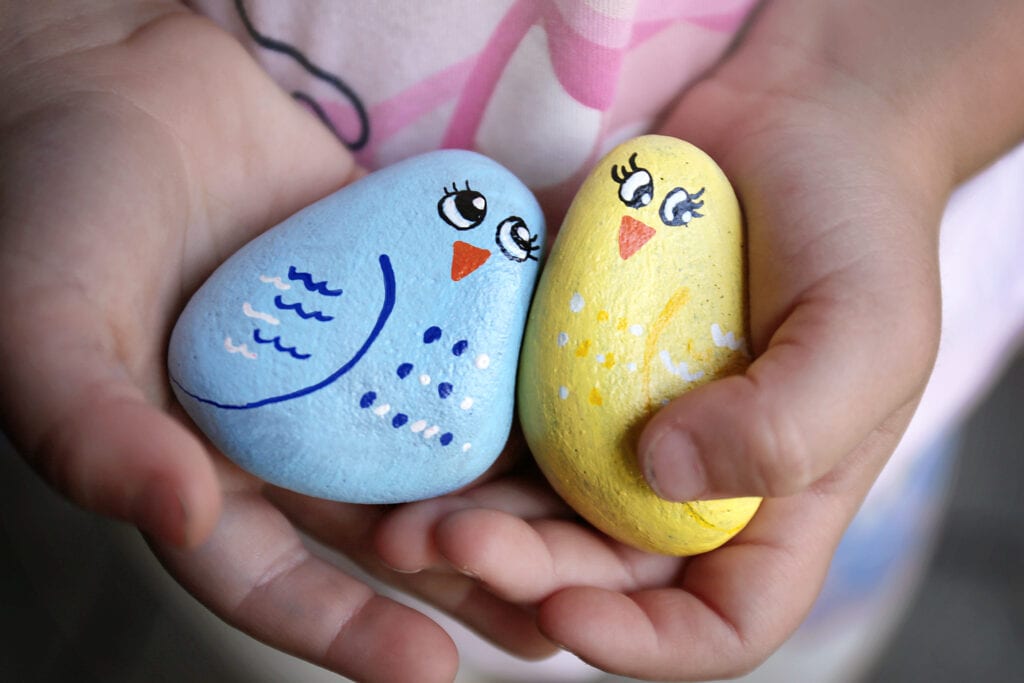 Unicorn
Turtle
Panda
Birds
Safari animals (lion, zebra, giraffe, etc)
Fish
Butterflies
Flamingos
Squirrel
Octopus
Dragons
Dogs and Cats
Chameleon
Farm animals (cows, pigs, chickens, etc)
Flowers to Paint on Rocks
Roses
Dahlias
Daisies
Hydrangeas
Hibiscus
Bird of Paradise
Tulips
Daffodils
Sunflowers
Poppies
Lotus
Irises
Orchids
Pansies
Doodled and Patterned Rock Designs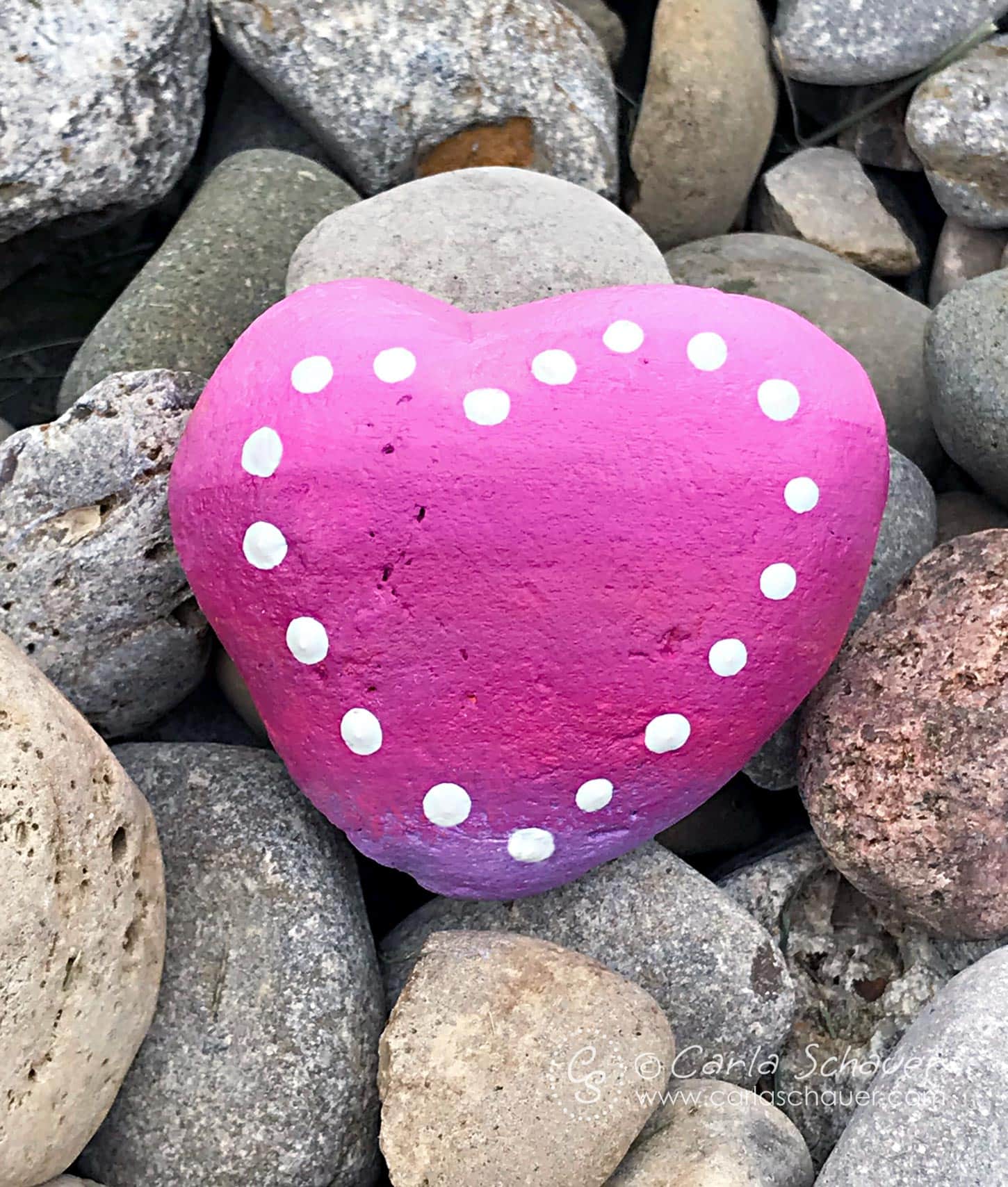 Dots
Mandalas
Flowers
Stripes
Swirls
Stars
Spatter paint
Tie Dye
Animal print
Chevron
Paisley
Zentangles
Feathers
Summer Ideas for Rock Painting
Ice cream cones
Beach chairs and umbrellas
Starfish
Kites
Beachball
Flip-flops
Sports
Swimming
Popsicles
Sandcastles
Sunshine
Sand dollars
Watermelon
Festive cocktails
Travel Themes for Painted Rocks
Mountains
Beach
Road Signs
Tents and Campers
Backpacks
Hiking Boots
Airplanes
Boats
Country Flags
Trains
Maps
Compass
Major landmarks (Great Pyramids, Eiffel Tower, Big Ben, etc)
Passport stamps
Story Stones Themes for Rocks
Princess
Vacation
Cars and Trucks
Knights and Dragons
Pets
Home and Family
Zoo Friends
Day at School
Robots
Gnomes and Fairies
Weather
Wizards and Magic
Under the Sea
Science Things to Paint on Rocks
Beakers and test tubes
Element Symbols
Molecules for Caffeine or Serotonin
Microscope
Stethoscope
Rocket Ship
Volcano
Fossils and bones
Dinosaurs
Brain
Petri dish
Cell diagrams
Interlocking gears
Hobby Themes for Rock Painting
Sports
Art reproductions or supplies
String instruments
Photography icons
Game pieces and boards
Gaming controllers
Gardening tools
Piano keys
Stamp images
Surfboards
Stacked books
Bicycle
Quilt blocks
Food drawings
Use these ideas as-is, or as a jumpstart for your own creativity!
Pin these Rock Painting Ideas for Later: