Our family loves road trip games. Scavenger hunts, road trip bingo, license plate game…we play them all. They're a fun way to reduce the amount of electronics we use in the car, and look at the sights as we drive. This Travel Scavenger Hunt for tweens and teens is a little harder, which makes it great for adults as well.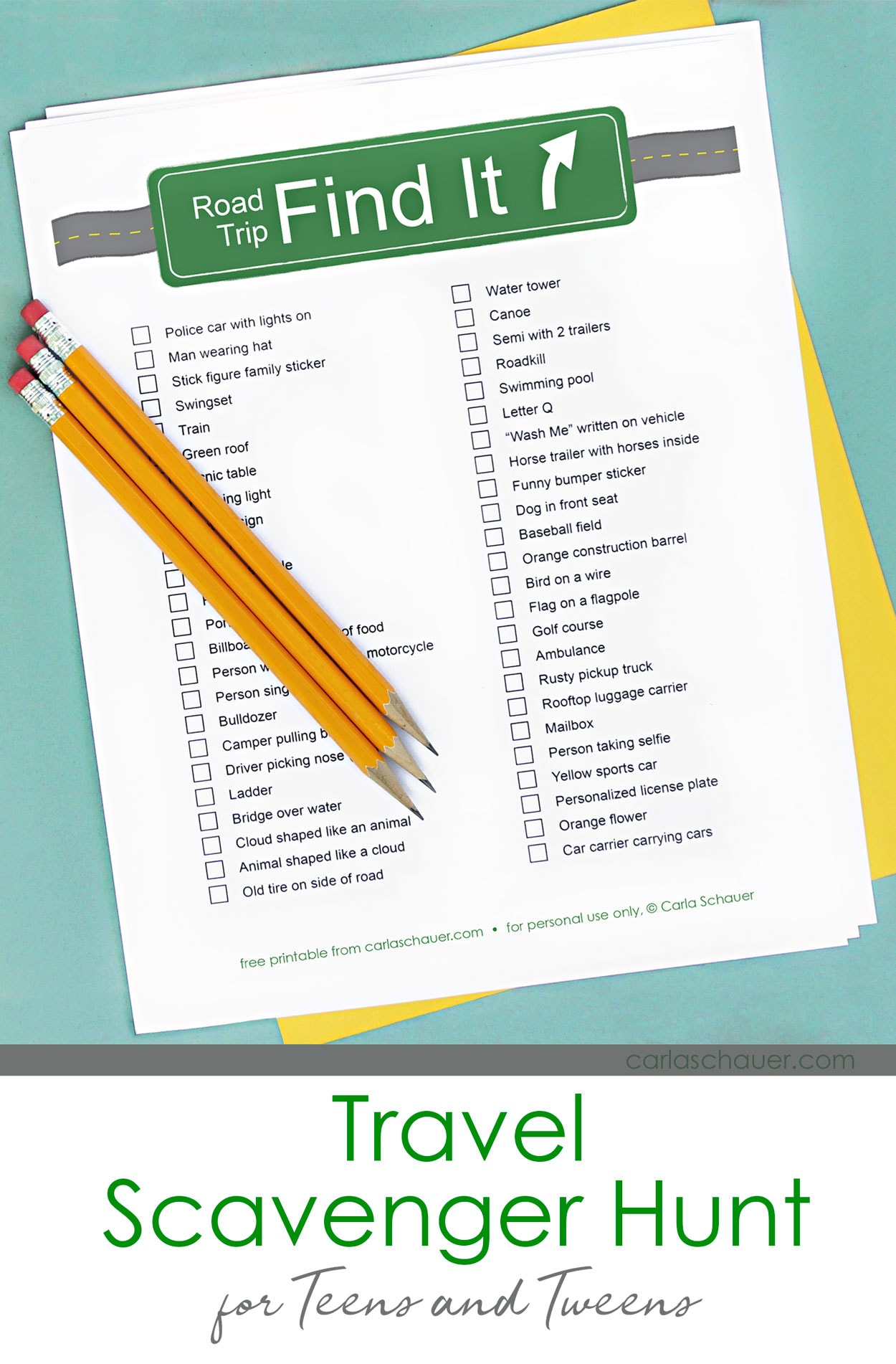 My siblings and I still talk about the ridiculousness that happened on our family road trip vacations, and I definitely want my own kids to do the same someday.
My dad once turned around and backtracked 10 miles because my mom was sure she saw a real, live alligator by the side of the road, and we wanted to see it too.
That alligator turned out to be an old blown tire by the side of the road and made family history. "Florida alligator" (old tire) now holds a permanent spot on our road trip scavenger hunt lists, and a permanent spot in our family vacation hall of fame.
Silly stories are the best part of road trips, and you can't make those when heads are buried in electronic gizmos.
This post may contain affiliate links. I could earn a small commission from purchases at no cost to you.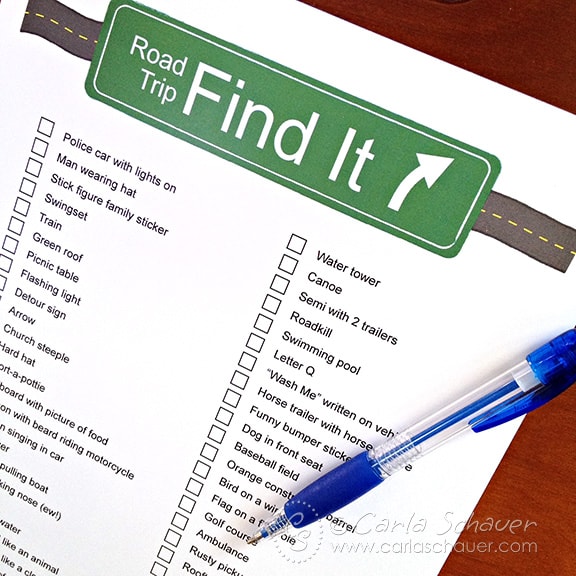 Prep your Road Trip Scavenger Hunt List
Since this printable scavenger hunt is geared for older kids (9+) and adults, you have a couple more options to prep the family games for your next road trip.
I usually recommend laminating your travel printables and using a dry erase marker for younger kids, to keep them clean and reuse.
But for the 9-14 year old crowd, adding them to a DIY Travel Binder in plastic sleeves works well. They may even enjoy doing the printing and prep themselves. It's a great way to get them involved in vacation planning.
With teens, anything goes. They're likely to roll their eyes whatever you give them, so a printed paper and pencil are fine. While I definitely like meeting teens where they are, I'm not a fan of sending them the file to check off on their phones. Fun road trip games are the perfect way to get their heads out of their devices.
Check out my other Travel and Outdoor printables to get more fun games for your next vacation with kids of all ages.
Share this Scavenger Hunt with Friends:
Your shares are how this site grows, and I am genuinely appreciative when you do. Pin to your Travel Pinterest board or share this idea on Facebook.
Travel Scavenger Hunt Rules
To avoid backseat bickering and make sure everyone has fun, make sure to set some guidelines beforehand. You can choose to play together as a group, or have feisty family competitions. Our family rules are:
Two players can't claim the same item in the same place. For example, one construction site can provide a hard hat, a bulldozer, and an orange barrel, but not two claims of orange barrels. First person to call it, gets it.
To prevent any sneaky business, all objects found must be confirmed by another player. Don't worry, any possible cheating stops right away when the guilty party realizes that confirmation is a two-way street.
Only items spotted during actual travel time get counted. Any pit stop for food or bathroom break where when out of the car is considered a "game pause".
Start playing after everyone has had a chance to read the list of items. Finish when the car turns off at your final destination.
The player who finds the most items is crowned the champion. So, make sure to keep your eyes peeled and be ready to have some silly, road trip fun!
Download the Road Trip Scavenger Hunt Printable
Ready to hit the road with an extra dose of fun? Simply click the orange button below to grab your printable Road Trip Scavenger Hunt. It's compact, it's portable, and it's guaranteed to add a whole new level of excitement to your travels. Get ready to create memories that will last a lifetime!
Print as many as you need for your next long trip (personal use only).


Free printable travel scavenger hunt for tweens and teens. From Carla Schauer Designs...
Thanks so much for visiting! Because of all the interest in my travel printables, I've created a separate site all about family travel with teens and tweens.
You can find even more travel printables, car games for teens, trip adventures, gear and gift guides, and much more at Meander & Coast. I can't wait for you to join all the fun. See you there!