Remembering your kid needed Valentines before bedtime the night before the class party? Way to go! My "You Rock" Printable Valentines are quick and simple, and you can embellish as much or as little as you like. I'm showing you how to make fabric tags with them, plus you can also make paper cards or cute lunchbox notes. Download the free printable valentines below.
Are you here because it's the night before the class party?
No problem! I've got you covered because I've been there. You may want to skip the sewing and go straight to the super-simple paper version. Download and print, then mat on colored cardstock (or not) and pretend you've been on top of this Valentine thing all along.
This page may contain affiliate links. If you make a purchase through my link, I will earn a small commission at no extra cost to you.
To make Fabric Valentine Tags:
Supplies: (May contain affiliate links. Purchasing through these links adds no cost to you.)
printer
thread
sewing machine (or hand stitch)
twine or ribbon
Instructions:
Print Valentine art onto printable canvas fabric, following manufacturers instructions, and cut apart.
Cut coordinating colors of felt slightly larger than printable art so that felt shows around canvas edges.
Sew canvas and felt layers together using colored thread. I sewed around the canvas 3 times for a free motion, intentionally messy look. Trim loose threads.
Punch or cut hole in corner of tag (avoiding stitching), then thread twine or ribbon through hole to attach to Valentine treat.
Super-Simple Printable Valentines from Paper:
Print Valentine Cards onto white cardstock/paper and cut apart.
Glue to coordinating colored cardstock and trim slightly larger than printed cards.
Use decorative washi tape or clear tape to attach candy treat to reverse side.
Impress child with your last-minute ingenuity!
Download Free Printable Valentines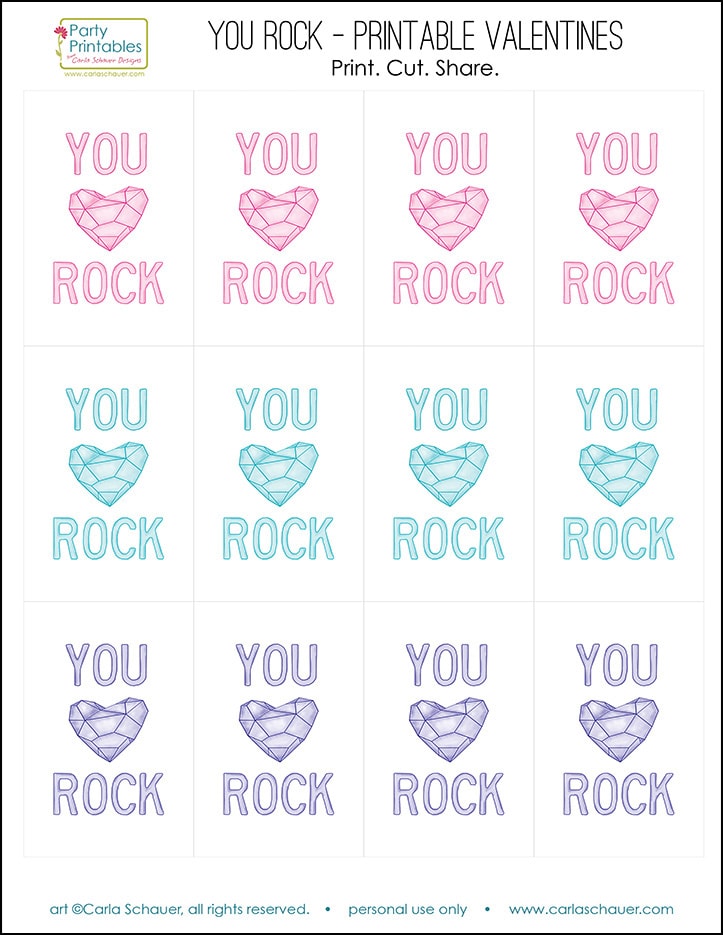 Whether you're here last-minute or with plenty of time to spare, I hope you enjoy these Valentines. You rock!
Have a creative, colorful week!
Carla
You might also like: