Ditch the mess and keep the sparkle with these 4 no-mess ways to add glitter to crafts.
Glitter is festive and attention-getting, and oh-so-sparkly. But it can also get everywhere.
Festive particles from a glittery greeting card can mysteriously reappear, glimmering in your left eyebrow 3 months later.
This page may contain affiliate links. If you make a purchase through my link, I will earn a small commission at no extra cost to you.
Accent Crafts with Glitter Glue or Paint
Since all the glitter is contained within the glue (or paint), you can add sparkle wherever you like without worrying about containing loose glitter.
Place small dots, write, or fill in shapes to accent projects. While glitter paint dries flat, glitter glue can also add dimension to your crafty masterpiece.
To accent this crystal-patterned bookmark, I used clear glitter glue to add sparkle while allowing the color below to show through. Get the free printable "You Rock" bookmark.
To Make the Glitter Bookmark:
Download and print my "You Rock" Bookmark onto heavy white cardstock.
Add an even layer of glitter glue to accent the largest face of each crystal. Allow to dry completely.
If desired, protect the bookmark by laminating or enclosing in packing tape and trimming around 1/4″ from edge.
Punch a hole near the top of the bookmark
Tie coordinating ribbon through hole
OR
Add more glittery goodness using the next idea before laminating.
Add Bold Style with Glitter Cardstock
Glitter cardstock is a wonderful option for large blocks of glitter. It's available in a wide variety of colors to match any project, and can be cut into shapes and words with scissors or a cutting machine. It's perfect for accenting paper crafting projects.
To mat the "You Rock" bookmark, cut coordinating glitter cardstock to 2.25″ x 6.25″ and glue printed bookmark to the center. Then complete steps 3-5 above to finish your bookmark.
Accenting with Glitter Vinyl
Cutting shapes, phrases, monograms and more from glitter vinyl is an ideal way to add mess-free glitter to almost anything. Vinyl doesn't have the limits of cardstock, so you can decorate nearly any craft.
Make a glittery zipper pouch, snarky t-shirt, or other customized fabric gifts using iron-on glitter vinyl.
Regular sticky vinyl can be used for car decals, bar stool seats, or decor.
Permanent vinyl is perfect for glassware, tumblers, or even your front door!
Add No-Mess Glitter with Sparkly Tape
Sparkly Tape is probably the most simple way to add glitter to your crafts. Available in a multitude of colors at around $1/roll, it's a cheap and easy glitter application.
Use it to make stripes, or even words on cards, scrapbook pages, or other paper crafts.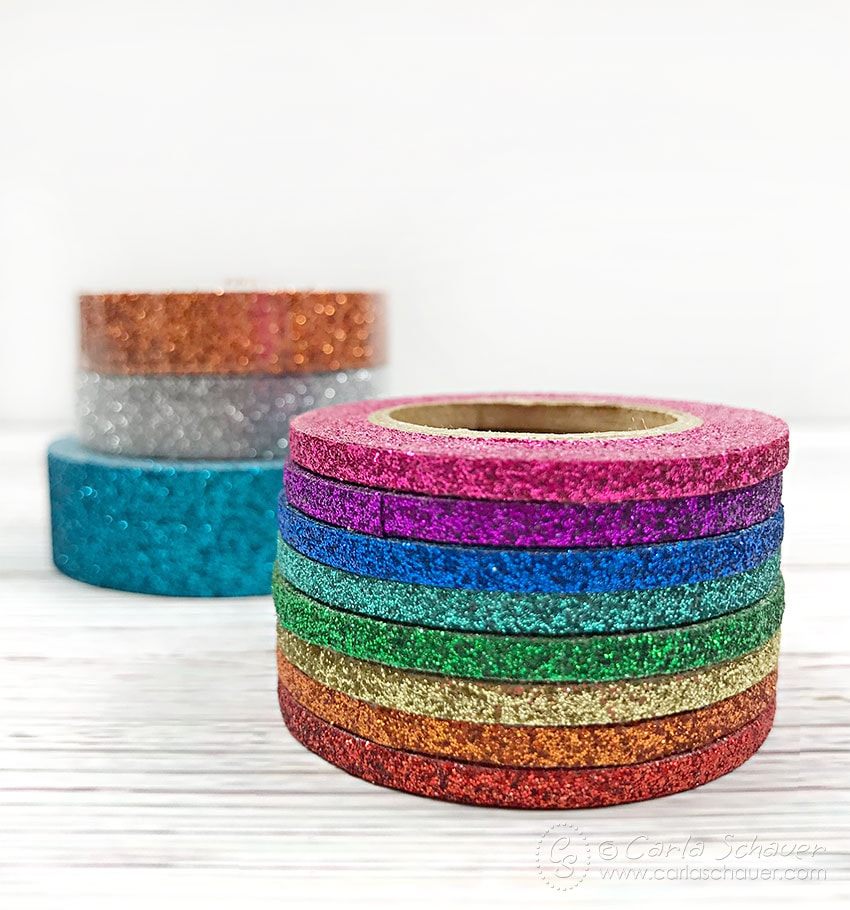 Pin these Mess-Free Glitter Ideas for Later
Your shares are how this site grows, and I am genuinely appreciative when you do. Pin to your Rock Painting Pinterest board or share this idea to a craft group on Facebook.