Make Easy Softball Necklaces from Washers
Make Softball Necklaces and bracelets using washers from the hardware store! They're easy to personalize with a number or name, and make fun softball gifts for players or moms.
It's informal softball jewelry that's casual enough for you at the ballpark, or for her to wear with one of her million tournament t-shirts.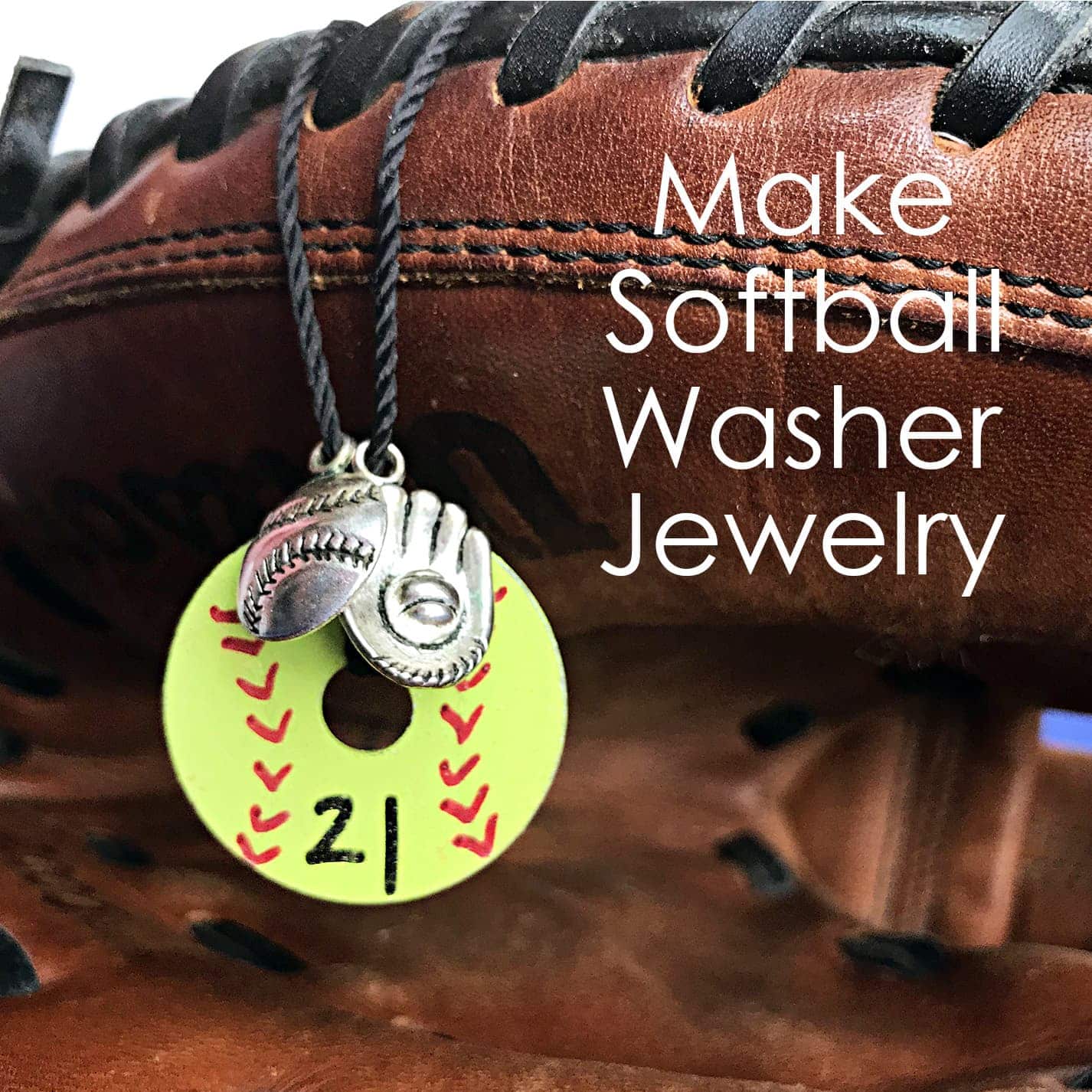 Girls can make washer softball jewelry for moms, moms can make them for their players, or they can be added to softball goodie bags for team gift exchanges.
Related Post: 17 Softball Gifts for Players and Teams
This page may contain affiliate links. If you make a purchase through my link, I will earn a small commission at no extra cost to you.
Supplies needed to Make a Washer Necklace
Making a necklace from washers is a straightforward process, using washer hardware, cording, and some extra embellishments.
For each necklace, you will need:
Black Cording (2ft each)
1/2″ paintbrush
flame (to seal synthetic cording)
DIY Softball Jewelry-Bracelet Option
To make a softball bracelet with your painted washers instead of a softball necklace, simply modify the string. Use the same attachment method as for the necklace, adding string to opposite sides of the washer.
Knot charms in place on one side. Then tie using this adjustable sliding knot method for a bracelet that will fit most wrist sizes.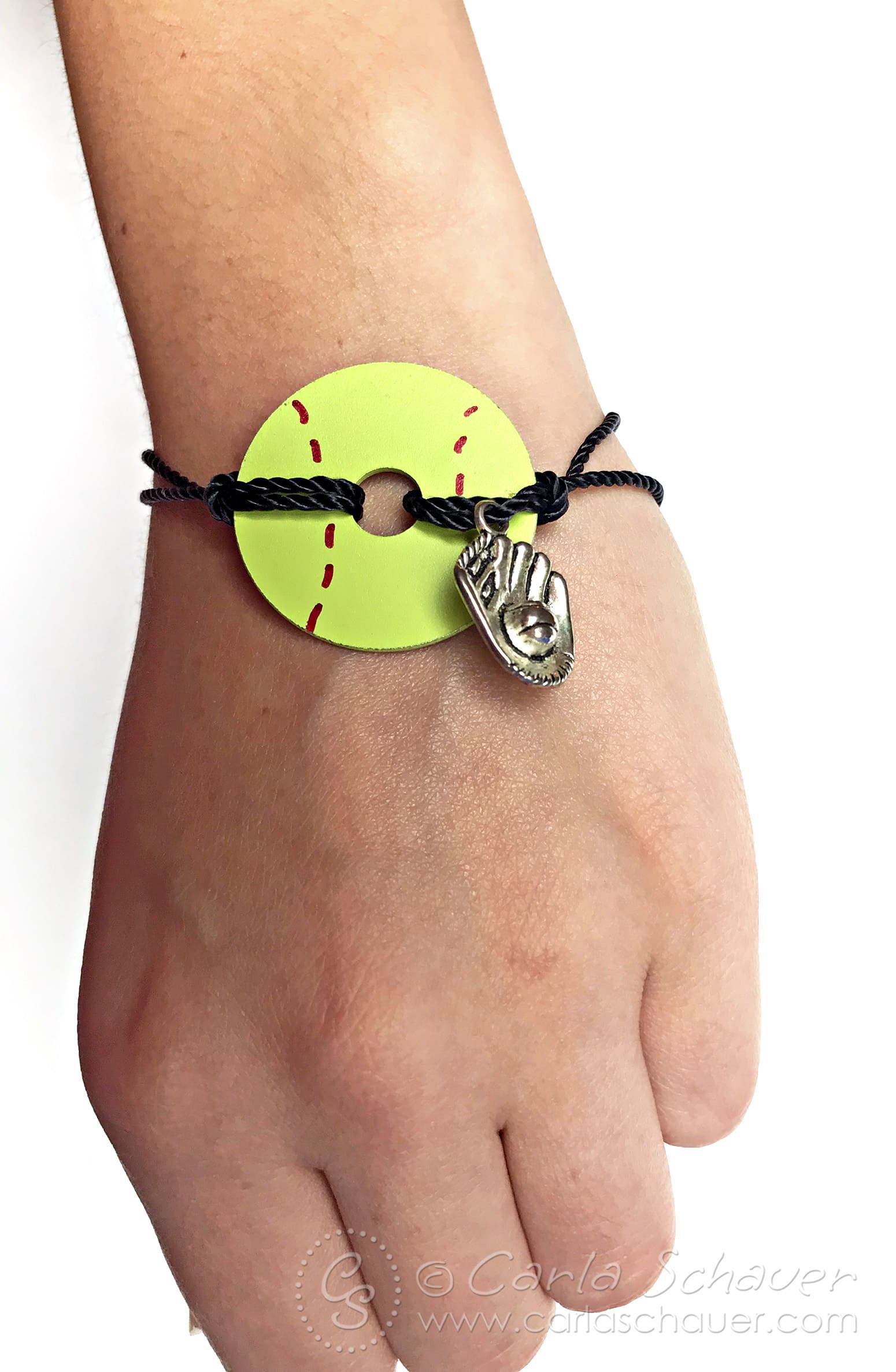 How to Make Washer Softball Necklaces
Necklaces are easy to make in bulk when you cut, paint, and add cording in batches. In fact, the most time consuming part of this project is the drying time!
You can save the tutorial below to your favorites or print using the buttons below.
DIY Softball Necklace
Additional Time:
10 minutes
Estimated Cost:
under $10
Make Softball Necklaces and bracelets using washers from the hardware store! They're easy to personalize with a number or name, and make fun softball gifts for players or moms.
Materials
1.5" diameter metal washers
Bright Yellow Multi-Surface Acrylic Paint
Red Posca Paint Marker or Sharpie
Black Posca Paint Marker or Sharpie
Clear Sealer
Black Jewelry Cording
Softball-themed Metal Charms
Tools
1/2" paintbrush
flame (optional)
Instructions
Paint Washers. Using 1/2" brush, paint 2-3 coats (until opaque) of yellow paint on washers, drying between coats. When fully dry, repeat for other side.
Add Stitching. Draw softball stitching onto yellow washer using red marker and let dry. Use black marker to write player's jersey number (optional) and let dry. Repeat stitching and number on other side.
Apply Sealer. Spray 2 light coats of clear sealer onto one side of painted washer. Let dry, then repeat on other side.
Cut Cording. While paint is drying, cut 18" lengths of cording, one per necklace.
Add Charms and Cord. When fully dry, attach cording. Fold cord in half, thread closed end through washer hole and charms. Pull open ends of cord through loop made by folded cord and pull until charms and cord are snug against washer. Tie open ends together at desired necklace length, trim excess length, and use flame to melt ends (optional on synthetic cord to prevent fraying).
Notes
Always supervise younger crafters with open flame.
Ends of cording will be extremely hot.
Recommended Products
As an Amazon Associate and member of other affiliate programs, I earn from qualifying purchases.
Whichever softball jewelry option you choose to make, they're a terrific craft for all ages and skill levels. What a cute way to support your favorite player!
Pin this craft for later:
Your shares are how this site grows, and I am genuinely appreciative when you do. Pin to your favorite softball Pinterest board or share this idea on Facebook.